From a Balinese Villa to an Italian Castle, Here Are the 7 Most Lavish, Stunning Homes on Airbnb Right Now
There's no shortage of wanderlust-inducing homes available for rent on Airbnb these days. These beauties are the dreamiest of the lot.
---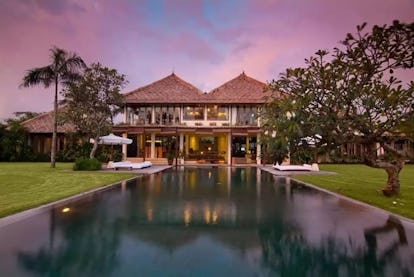 Forget about that lake rental or Fire Island share this summer and set your sights on something a little more unique. We've scoped out some of Airbnb's most stunning homes available right now and narrowed it down to seven strikingly disparate, but equally intriguing, properties. From a fully-staffed Balinese villa for 12 to a Malibu dream house (recently booked by Kendall Jenner and co.), these are wanderlust-inducing destinations around the globe. Time to plan your next adventure.
Castello Dal Pozzo
Rent out this sweeping eight-bedroom castle in Piedmont, Italy just minutes from Lake Maggiore for a vacation retreat with friends or a special event. There's also a restaurant (Le Fief) and a wine bar (Dal Pozzo 24) on property. Cost: $4,011 per night, one night minimum stay. Book it now.
Malibu Beach House
Live the California dream for a few days at this beachfront Malibu house. And, if it means anything to you, Kendall Jenner recently rented out the $2,200 pad for the July 4th weekend. The house has three bedrooms (accommodates six people), a hot tub, a gym, and stunning views of the ocean. Cost: $2,200 per night, four nights minimum. Book it here.
Himmaphan Luxury Villa
Golfers and beach lovers alike will be excited about this eight-bedroom house on the coast of Phuket, Thailand. Minutes from Bag Tao Beach and Banyan Tree Golf Course, the gorgeous property has a swimming pool, a pool table, a fully equipped kitchen, a media room, maid service, in-house massages, tee times, daily menus with the on-site chef, a villa manager who can arrange island excursion, and more. Book your flight and get there already. Cost: $823 and up per night (rates vary by season), three nights minimum. Book it now.
Hertfordshire Tower
The centerpiece of this fairytale six-bedroom home in Hertfordshire, England is the tower dating back to the 1860's. The countryside estate is also surrounded by rich historical spots, including Hatfield House, where Queen Elizabeth I was raised (and to which she fled after being imprisoned in the Tower of London by her sister Queen Mary I). However, if the mood strikes for a night in London proper, the nearest tube line is just a short 15-minute drive away. (The property even provides a seven-seat SUV rental for guests, available upon request.) Cost: $893 per night, one night minimum. Book it now.
The Seashell House
Designed by architect Eduardo Ocampo, this giant seashell house in Isla Mujeres, Mexico, is like Tolkien on the beach. The two-bedroom property (sleeps four), situated in a gated residential community, is not only shaped like seashells on the outside but it's also filled with shells on the inside. The house has a private pool and the Gulf is just 15 minutes away. Pack your snorkel gear. Cost: $308 per night, two nights minimum. Book it now.
Villa Kalima
It's hard to decide what's more stunning—this three-level, Balinese beachfront villa or the electric green rice fields that surround it. The house, which accommodates 12, is perfect for big groups or wedding parties. There's also a supervisor on site, and a staff that includes a cook, housekeeping, gardeners, and security. If you ever want to leave the property (let's be honest, you probably won't), the Nirwana Bali Golf Club, Tanah Lot Temple, and Seminyak shopping area are all about a 20-30 minute drive away. Cost: $1,303 per night, two nights minimum. Book it now.
Frank Lloyd Wright's Schwartz House
It's not often one gets the chance to experience a Frank Lloyd Wright beyond a tour. Here's your chance. Spend a few nights at the architect's historic Bernard Schwartz House in the small fishing town of Two Rivers, Wisconsin. The house was Wright's LIFE magazine "Dream House" design from 1938 and has since been featured in publications like Town & Country, The New York Times, and The Wall Street Journal. Sleeps six to eight people. Cost: $425 per night, two nights minimum. Book it now.