70 Years of Antonio Lopez
A new online gallery pays homage to infamous illustrator with an untraditional exhibition in London
---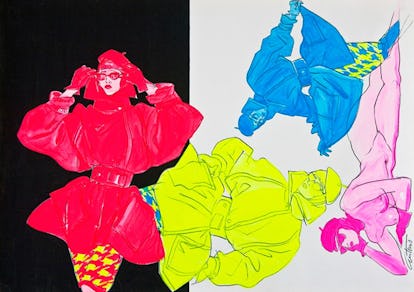 "I'm out of love with white gallery spaces," says Janina Joffe, the director of East of Mayfair, an online gallery based in London. The website she has designed maintains that idea—in place of the simple white page most e-commerce ventures favor is an illustrated townhouse, created in collaboration with Pierre Le-Tan and Thibaud Herem, complete with six virtual rooms, that exists as a work of art in itself.
To celebrate both London Fashion Week and what would have been the New York wild child Antonio Lopez's 70th birthday, Joffe is bringing a collection of previously unseen works by the infamous illustrator to Roland Mouret's Mayfair concept store. "Great fashion illustrations are not just documents of an era, but timeless creations that maintain their value despite being largely forgotten by recent generations," Joffe explains. See, touch, and then head home to shop.
'70 Years of Antonio Lopez' is on view September 14 through October 20th; all of the works will be available at eastofmayfair.com.