JW Anderson Hooks Up With Grindr, Balmain with Supermodels
In case you missed them, here are the top style stories of the week.
---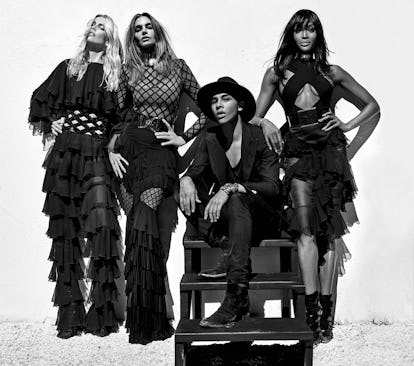 Anderson, J.W. Will stream his fall 2016 show on Grindr, bringing us all one step closer to dating him.
Balmain Reunites '90s supermodels Naomi Campbell, Cindy Crawford, and Claudia Schiffer for its spring 2016 campaign. They've still got it.
Bundchen, Gisele And husband Tom Brady are monster parents and make their kids eat a ton of vegetables.
Chanel Fights a 20-year-old for the @Chanel Instagram handle. He only has 52 followers, so…just take the money, dude.
Cycle, Soul Collaborates with Target; continues world domination.
Gabbana, & Dolce Debuts a hijab and abaya collection for Muslim and Arab customers.
Jacobs, Marc Casts transgender film director Lana Wachowski (and her amazing hair) in his Spring/Summer 2016 campaign. And writes about it on Instagram, of course.
Kloss, Karlie Is the face of Topshop's spring campaign, which tells us to "Be more like Karlie in 2016." Easier said than done.
Lagerfeld, Karl Is being investigated for tax evasion. Choupette did it!
Love, Courtney Collaborates with Nasty Gal; a match made in see-through fabric heaven.
Refaeli, Bar Announces her pregnancy on Instagram with an emoji, not to be confused with a KIMOJI.
West, Kanye Risks being sued by Nike for libel regarding his new song "Facts." Adidas wins no matter what.