Julia Fox Shares the Story Behind Her Soon-to-be-Auctioned "Uncut Gems" Outfit
A24 is selling costumes and props from "Midsommar," "Mid90s," and more, with 100% of the proceeds going to various charities.
---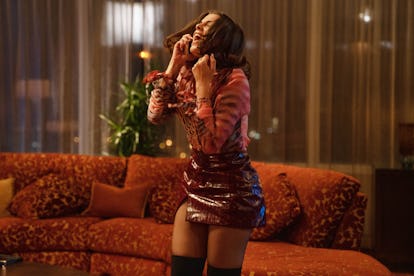 Courtesy of A24.
In one of the final, pivotal scenes of Uncut Gems, Adam Sandler as Howard Ratner places a bet on a game that, if it hits, could mean huge winnings. His girlfriend Julia De Fiore, played by the New York City-based actress Julia Fox in her breakout role, waits patiently in front of a television to see the results.
This is just one of the many anxiety-inducing scenes that will go down in cult history from the Josh and Benny Safdie-directed film—and it's one of Fox's favorites, in part because of the outfit she wore: a Roberto Cavalli blouse, oxblood eel skin skirt, and a Louis Vuitton Montsouris GM backpack from 1998.
"I was hoping when this was all said and done that I could hit them up and be like, 'Hey, about that skirt…'" Fox said, speaking on the phone one recent afternoon from her apartment in Manhattan, where she is quarantined with her husband.
Sadly, she didn't get to keep the outfit. But the 30-year-old artist, former clothing designer, model and filmmaker is happy to say that the clothing will go toward a much greater and charitable cause, when each piece is put up for auction through a new initiative from the film's production company, A24.
On April 27, A24 will be putting a selection of its most memorable costumes, props, and other collectors's items from its movies and TV series for sale through a digital auction. Indie film fans will be able to bid on items like the "Cowabunga" skateboard from Mid90s; a maroon sweatshirt worn by Zendaya in Euphoria, and the "May Queen" flower dress worn by Florence Pugh in Midsommar. One hundred percent of the proceeds will benefit New York-based charities of each director's choosing that are supporting Covid-19 relief efforts.
For Uncut Gems, proceeds from lots including the Michael Jackson crucifix necklace Fox wore in the photoshoot scene with The Weeknd; Kevin Garnett's Celtics jersey, and the iconic KMH Jewelers Furby chain will go toward the Queens Community House, a family and community service organization the Safdie Brothers chose to support.
Uncut Gems costume designer Miyako Bellizi and her assistant Lyndsea LaMarr, made the skirt to measure for Fox, and the Cavalli top proved to be tricky because they only had one. "Usually, on sets, they'll have multiples of the same outfit, in case it gets damaged or in case it gets dirty and starts to smell weird," Fox said. "During that scene where I'm hanging out the window, passing the bag to Adam [Sandler], we had to do that so many times, because every time, my arm scraped against the side of the building. And the shirt, which was silk chiffon, was pilling, and there would be strings everywhere. It was just a mess. But we really loved this shirt, so we committed."
Fox had strong opinions concerning her wardrobe on set—even in quarantine, she's spent her time watching her favorite costume-driven movies, like Almost Famous and Romy and Michele's High School Reunion. She said that, as a creative person, she has an inclination toward certain aesthetics, and that she likes "things to look good, even if they're morbid, dark, and ugly." In one particular scene from Uncut Gems, in which Julia goes to the club, Josh and Benny Safdie wanted to put her in a bodycon dress. She protested, and they put her in pants instead.
"I knew that scene was going to be really stressful, and I needed to be comfortable," Fox recalled. "What if you need to fucking get up and start running out of there?"
Fox, meantime, is making herself plenty comfortable during the coronavirus pandemic—wearing the same pair of velour Juicy Couture sweatpants and Skims tank tops almost daily.
"I'm very basic bitch right now," she said. But when discussing what her character Julia De Fiore might wear during a stay-at-home order, Fox first considered her personality and her story—which is told through her bold, pattern-heavy closet. Her tight clothes connote confidence, but also are a source of manipulation—her looks and body are a means to get men like Howard to become obsessed with her, and eventually, give her what she wants.
So in quarantine, Fox said, laughing, "She would be wearing nothing. She'd be in a thong and a bra the whole time."
Related: Scenes from the Uncut Gems Pop-Up in Manhattan's Diamond District