A Cure For Wellness: A Trailer for a Horror Movie Set in a Spa
Mia Goth and Dane DeHaan star in the world's first spa-themed horror movie.
---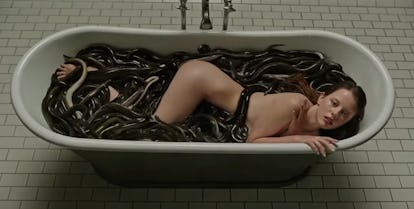 Screenshot via YouTube
From a certain point of view, there is something a little creepy about spas. They're filled with strangers walking around in next-to-nothing, in a dimly-lit, damp atmosphere. There are downright macabre treatments like vampire facials, skin creams mixed with a client's own blood, and facial massages carried out by actual snails. And, at the heart of it all, there's everyone trying to beat away the signs of age and desperately hoping to postpone their meeting with death.
Hopefully we didn't ruin your upcoming spa getaway, but the trailer for A Cure For Wellness probably will. Aside from a Lifetime TV movie called Deadly Spa, this is the first major horror movie actually set in a spa. The film stars Dane DeHaan as a young businessman climbing the career ladder who is charged with retrieving his company's CEO from a mysterious wellness center. When he arrives, he starts to uncover all sorts of terrors and a mysterious illness that keeps clients coming back for treatments.
Mia Goth, the young actress who recently married Shia LaBeouf in Las Vegas, costars. We're not really sure how her character, Hannah, figures into the plot, but we can tell that she has figured her way into a bathtub full of eels (side note: bathing in tiny eels that eat away at dead skin cells is an actual beauty treatment, because of course it is).
Incidentally, Goth and DeHaan also recently co-starred together in a campaign for Prada's fragrance line, a far more traditional beauty production compared to these trailers:
If that wasn't all creepy enough, consider that most of the film was shot in an actual German castle. Hohenzollern Castle, a 19th-century Gothic revival style fortress that sits atop a mountain in the foothills of the Swabian Alps, serves as the set for the mysterious wellness center.
The film is directed by Gore Verbinski, who is best known for the Pirates of the Caribbean franchise, but who also directed the American remake of The Ring. So he has his horror movie bonafides.
Originally slated for release in September, the film is now scheduled for a February 17 roll out. That's just a few days after Valentine's Day, so if your partner happens to gift you a spa getaway, well, maybe go before seeing this film.
Watch Mia Goth and Dan DeHaan explain the importance of love: