A Guide to Everything You Missed at Art Basel Miami Beach 2016
From the outrageous parties to the outrageous art, a quick rundown of the most fabulous fair.
---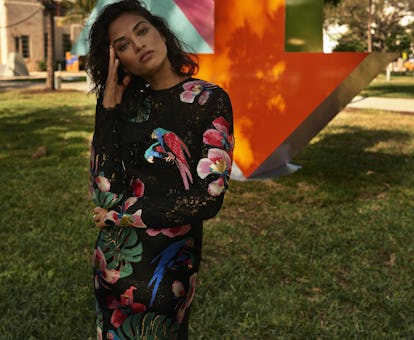 Bon Duke, styled by Caroline Grosso. Hair and Makeup by Angie Chavez at Wilhelmina. Model: Shanina Shaik at IMG Models. Produced by Biel Parklee. Casting by Erin Simon.
Whether due to the election, the threat of Zika, or just the changing winds of fashion, it was a quieter Art Basel Miami Beach last week in terms of sheer turnout. But that was not a reflection of the art on view, and certainly not an indictment of the parties on offer, which were as outrageous as ever, if not more so. Here are all the highlight-worthy takeaways for those who kept their distance this year.
The Celebs Did Not Shy Away Martha Stewart was seemingly everywhere. Sasha Lane continued to win our hearts. Paris Hilton partied on, blissfully ignorant. (Speaking of the formerly disgraced, there was even a sighting of Eliot Spitzer, keenly considering the art at the Rubell Collection.) And they all seemed to converge on Madonna's thoroughly debauched concert/gala for her charity Raising Malawi.
The Best Party Pictures From Art Basel Miami Beach 2016
Madonna on stage during her Evening of Music, Art, Mischief and Performance to Benefit Raising Malawi.

Photo by Getty Images.
Anja Rubik, Anthony Vaccarello, Elodie Bouchez & Charlotte Gainsbourg at the YSL Desire Event.

Photo by Saskia Lawaks.
Photo by Matteo Prandoni/BFA.com
MoMA PS1 X Hood by Air Event.

Photo by Lexie Moreland.
Ariana Grande performs onstage during An Evening of Music, Art, Mischief and Performance to benefit Raising Malawi.

Photo by Getty Images.
Nelly Furtado at the Alex Katz X H&M Dinner.

Photo by Lexie Moreland.
Photo by Matteo Prandoni/BFA.com
L'Eden by Perrier-Jouët's Grand Opening Night

Photo by Lexie Moreland.
MoMA PS1 X Hood by Air Event.

Photo by Lexie Moreland.
Public School X Radio Dinner.

Photo by Lexie Moreland.
Alex Rodriguez performs onstage during An Evening of Music, Art, Mischief and Performance to benefit Raising Malawi.

Photo by Getty Images.
The Acres of Public Art Art Basel spilled, like many a glass of champagne, into the nearby Collins Park this year with a massive exhibition of public art, including a scaled-down version of Ugo Rondinone's "Seven Magic Mountains" in the Nevada desert. Not to mention the countless new murals splashed across the Design District, of course. There was so much to see we even gave Shanina Shaik a guided tour.
The Ubiquitous Virgil Abloh Virgil, whose resume verges on Aenied-esque length these days, can now add furniture designer to that list. He was ubiquitous in Miami, and his line of Off-White table and seating, which debuted at Design Miami, dominated Instagram feeds. As for the designs? They're quite… something.
The Upward Trajectory of Max Hooper Schneider Hooper Schneider, whom we pegged as an emerging artist to watch last year, continues to impress. Though his installation at High Art's booth was among the smaller in the Art Basel fair, it made a big impact, appearing on many a best-of list. His neon terrariums look as if they were constructed as much in the lab as in the studio.
The Now Properly Appreciated Thomas Bayrle Previously underappreciated in the U.S., the reception of the German artist's retrospective at the ICA was a correction of Bayrle's narrative Stateside — that is, it was met with universal praise in Miami. Of course, the towering, specially-commissioned, site-specific Madonna and child sculpture at the center of the show brought a certain wow factor — a necessary evil to stand out in a very loud week.
The Sun Rises on Sun Xun The Chinese artist's commission for Audemars Piguet, a giant wave of bamboo that seemed like it could take down a pro surfer, loomed impressively over a beachfront pavilion that doubled as an exhibition space. Titled Reconstruction of the Universe, it looked both as powerful and fragile as water itself.
Maurizio Cattelan Strikes Again Definitely unretired, the Italian provocateur not only saw a documentary about himself, Maurizio Cattelan: Be Right Back, screened in Miami, but saw to it that Toilet Paper, his periodical endeavor with Pierpaolo Ferrari, gobbled up all the attention with its installation at the Fondation Beyeler booth at the fair. It was one of the most Instagrammed booths at Art Basel, if not the most.
The Now Impossible to Unsee Jeff Koons Coitus In case you missed the 2010 show of Jeff Koons's infamous 90's Cicciolina paintings in a staid Upper East Side townhouse, in which he sexes his then-wife Ilona Staller (aka the Italian porn star La Cicciolina), you got another chance to gawk at them in Jeffrey Deitch and Larry Gagosian's exhibition of erotic art curated by Diana Widmaier Picasso, which included the memorable Dirty – Jeff on Top. Now try to unsee it.
Jeff Koons, Continued Oops! A Koons miniature balloon dog on a plate fell from its display at Design Miami and shattered the art world news cycle. The artist, though, was nonplussed. "It's just a porcelain plate," he told Page Six. At an estimated price of $9,000, it might not even be that for the world's most expensive living artist.
The Headliners Were Present Madonna! Gucci Mane! Kendrick Lamar! Ariana Grande! Princess Nokia! Grace Dunham?! The performers really turned it up this year, proving that even in a down year Art Basel Miami is just too big to bail on completely. Till December 2017, Miami.