A Guide to Opulent, Alessandro Michele-Approved Antiquing In Europe
Inspired by the Gucci designer's eclectic hobby, here are some of his favorite antique shops and markets — plus a few professional recommendations.
---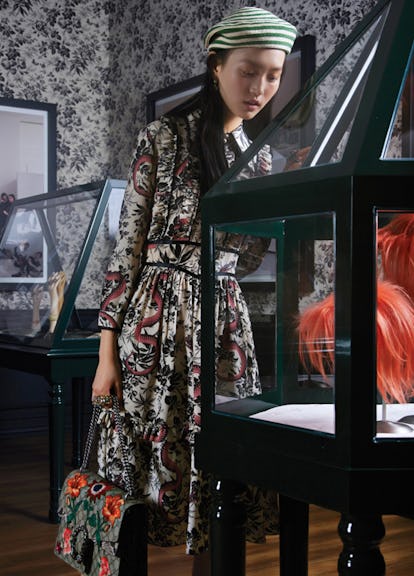 Jeff Yiu
If you want to get Alessandro Michele's look, you'll perhaps have more luck visiting an antiques market rather than an actual Gucci store. The designer is an avid collector of antiques, ranging from English funeral rings, which adorn each and every one of his fingers, to the nineteenth century double wooden desk he purchased at an antique store in Florence for his personal office in Rome. His obsessive, encyclopedic knowledge and love of the past comes through in all of his collections, which are fashion time-warps that beg the question: "What is contemporary?"
Following his Spring 2017 show on Wednesday, a deep dive into Michele's Instagram not only allowed us to discover that he follows the GucciGhost and Donatella Versace's dog, but also lead us to a number of his favorite antique shops. But in order to get a complete list of the best places to shop around Europe, we also consulted some other trusted sources.
Anton & K Located in the historic horse racing and spa town of Cheltenham in Gloucestershire, England, this French shop features art deco, painted chests, mirrors, and more — plus it's Michele-approved. Unit 5, Elms Farm, Gretton, Cheltenham GL54 5HQ Phone: +44 (0) 1242 602 644
Bernhard & Weiss Located in Sweden, partners Fredrik Weiss and Torbjörn Bernhardsson, who is also a violinist in the Swedish Radio Symphony Orchestra, sell a wide range of antiques from the Baroque period to the 1900s. (Also Michele-approved.) Österlenvägen 306, 270 21 Glemmingebro, Sweden Phone: +46 (0) 702 872 494
L'Oro dei Farlocchi Italian photographer Micol Sabbadini says that the owner of this Milan antique destination is an "amazing character!" And his father also agrees that this spot is "the most special." Via Madonnina, 13, Milano, Italy +39 02 860589
Galleria Gracis Old English furniture in Italy? Why not. Established in 1959, this galleria deals fine XVIII and XIX century antiques. Piazza Castello, 16, 20121 Milano, Italy +39 02 877807
Camden Lock Michele recently told The New Yorker that he roamed the antique stalls at Camden Market in London as a child. It's a bit of an antique itself, as it first opened back in 1974 and is to this day one of the most visited spots in the city. Camden Market, London No phone.
Grays Antique Center According to The New Yorker this is also Michele's "favorite" antique store, located near Bond street in London, where he bought one of his many English funeral rings. "Is it not beautiful?" he told the reporter, Rebecca Mead. "I love that the English celebrate death." 58 Davies St, London W1K 5AB, United Kingdom +44 20 7629 7034
Marché aux Puces de Saint-Ouen Ellie Cullman of the New York interior design firm Cullman & Kravis told W magazine that in this famous Paris market there are "aisles and aisles of treasures — both old and new." Rue des Rosiers, 93400 Saint Ouen, France No phone.
Carlo Orsi Founded in 1952, Carlo Orsi is more like a museum than a shop, and is the go-to spot for all your white marble sculpture needs. Via Bagutta, 14, Milano, Italy +39 02 7600 2214
Michel Lambrecht and Philippe Lange The two daughters of hotelier Sir Rocco, Irene and Lydia Forte, claim that Brussels is truly "Europe's greatest antique shopping city." Their aunt has introduced them to some of her favorite shops in La Sablon district including Michel Lambrecht and Philippe Lange. We trust this family's judgment when it comes to interior design.
Michel Lambrecht Rue Watteeu 18, 1000 Bruxelles, Belgium +32 2 502 27 29
Philippe Lange Place de la Justice 2, 1000 Bruxelles, Belgium +32 2 503 46 18