A Guide to the Golden Globe Nominees You Might Not Know
The Golden Globe nominations always include more than a few surprises. Here's a guide to the films and performances that slipped under the radar until now.
---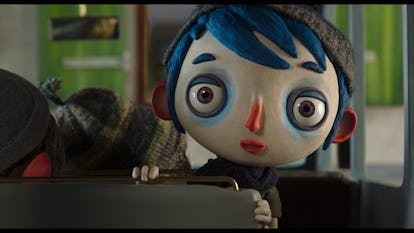 Image courtesy of RITA Productions
The Golden Globe nominations were announced this morning, and the idiosyncratic Hollywood Foreign Press Association seems to have a tradition of including some surprises within their recognition and bucking some trends of the other shows. Those surprises usually fall into two categories. They either go for big, a-list names to attract attention regardless of whether they're truly deserving for that particular work (see: the controversy surrounding the 2010 nominations of the critically abhorred but Angelina Jolie and Johnny Depp-starring The Tourist, or Lady Gaga's acting win) or they pick some under-the-radar nominees that may be well respected but weren't previously thought to play into the awards season.
Surprises in the latter category usually send most people into a "Wait, what exactly is this?" Google searching frenzy and this year's list of nominees has more than a few. Often, they're the types of films and TV shows that don't even pop up on the radar of other awards shows. Which means even close watchers of the Oscar and Emmy races can be caught off guard.
Here's your quick guide to those Golden Globe surprises so you don't have to spend all your time individually Googling them.
__Sing Street for Best Movie – Musical or Comedy.__
La La Land is supposed to be this year's designated musical darling, but that doesn't mean it's the only good musical released this year. This Irish musical is the latest from Once director John Carney, and likewise Sing Street stars younger, Irish talent. Set in the '80s, the film received thoroughly strong reviews, but only barely managed to crack the $3 million mark at the US Box Office. Which is all to say, it's a deserving nominee in the category, but still something of a shock.
Perhaps even more surprisingly, despite the fact that Sing Street is a musical, none of its original compositions were nominated for Best Song.
Colin Farrell in The Lobster for Best Actor – Musical or Comedy.
The surrealist indie comedy was released in May in the midst of blockbuster season, so there's a good chance it slipped under a lot of people's radars. If the name reminds you of Phoebe Buffay's favorite romantic allegory from Friends, you're not mistaken. Colin Farrell plays a man plays a man who is sent to a strange hotel and then must find his mate in 45 days or be turned into an animal (we told you it was surreal). Close Globes watchers aren't exactly stunned that Farrell earned a nomination (the film won the Jury Award at Cannes after all), but the vast majority of people who will be turning in might be shocked to find out the movie exists in the first place.
Iggy Pop and Danger Mouse's "Gold" from Gold for Best Original Song.
You'll hear about Gold eventually. It's a treasure hunting film starring Matthew McConaughey, but the film doesn't get a national release until January and it's promotional press hasn't started in earnest. So, it's single nomination for best song is something of a surprise. Especially considering that the song itself hasn't even been officially released yet. Oh well, a collaboration between Iggy Pop and Danger Mouse is still something to get excited about.
My Life as a Zucchini for Best Animated Feature Film
Sorry, Dory. This little French/Swiss stop-motion animated flick got your nomination spot in this category instead. The film follows the story of a boy named Zucchini who is taken to an orphanage after the sudden death of his mother and then must learn to make his own family. Which is at least sort of thematically similar to a fish who just forget her parents existed and makes her own family.
Billy Bob Thornton in Goliath for Best Performance by an Actor in a Television Series – Drama
Of course you know who Billy Bob Thornton is, but you can be excused if you didn't know he was currently starring an Amazon streamer. When it debuted in October it only got minimal press. Thornton plays a once respected lawyer who has been reduced to "ambulance chaser" status but now has a chance to get revenge on his former prestigious law firm.
Caitriona Balfe in Outlander for Best Performance by an Actress in a Television Series – Drama
Balfe is a former high-fashion runway model, so perhaps W reader know her from that career. This is also her second year in the category, but Starz's Outlander has failed to pop up into either the pop culture zeitgeist (or major Emmy awards categories) in a big way. In the show, Balfe plays a time traveling WWII nurse who winds up back in 1700s Scotland in the days of the Highland warriors.
Nick Nolte in Graves for Best Performance by an Actor in a Television Series – Comedy or Musical.
We saw a lot of advertisements for this show on the subway, but didn't hear much about it after it debuted. Maybe because it's on Epix, a relatively new premium cable channel. In fact, this is the first original scripted series for the channel. In the show, Nolte plays Richard Graves, a former president confessing to his failure while in office.
Charlotte Rampling in London Spy for Best Performance by an Actress in a Limited Series or Motion Picture Made for Television
This miniseries, which airs on BBC Two in the UK and BBC America here, follows a young nightclub-happy gay man who falls in love with an actual British spy, and then further into an actual mystery upon that spy's death. Rampling plays the spy's mother and was regarded as one of the best parts of the series. She received the show's only nomination.