Inside the Launch of Simon Huck's A. Human, New York Fashion Week's Strangest Kick-Off Party
SoHo is now home to an "adult Disney World" of body modification, thanks to Simon Huck.
---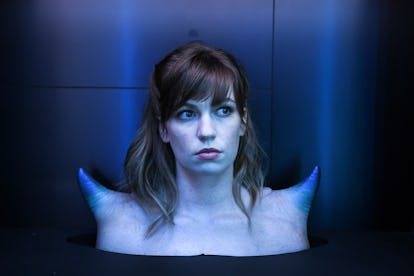 Billy Farrell/BFA
"I'm overwhelmed," Jonathan Cheban, outfitted in his signature "food god" denim jacket, said on Tuesday night, standing not too far off from the head and apparently crystallized neck of a very alive model staring stonily ahead as if it were perfectly normal to have the rest of his body encased in a box of dirt. "I can't believe these people are alive and in there sitting, breathing."
Disbelief has been rampant in the week or so since Kim Kardashian, Chrissy Teigen, and Tan France all casually posted photos showing that they'd temporarily mutated themselves for the sake of fashion—and, as it turned out, for their friend Simon Huck, the PR exec behind A. Human, an immersive, theatrical art experience that, with a little help from some prosthetic silicone produced in Atlanta, allows anyone with $40 to experiment with the idea of changing your body as easily as you can change clothes.
And while along with disbelief there's been plenty of rather strong reactions to Kardashian's apparent LED implant of a necklace, which lit up in accordance to the beat of her heart, and Teigen's sprouting feathers, there's also been no shortage of fascination with it all—even with celebrities like Katie Holmes and Nina Agdal, who were just a couple of the guests who turned up in droves to the opening to see up close what was going on. Even Cheban, who's friends with Kardashian and used to work with Huck, had been a bit at a loss beforehand: "Simon was telling me about it, but I didn't understand what he was talking about," he explained. "Then I saw Kim and Chrissy's posts and I was like, 'Oh my God.'"
As for the actual launch? Well, to start, there was the live model's head there to greet you as soon as you walked through the door and onto the dirt, which littered the floor along with groupings of rocks and tropical plants. Past that rather alarming threshold, where a pair of hands and a spiky blue back emerged from another set of boxes, were a couple of bright yellow walkways that showcased all the different types of body modifications the pop-up offers, from the "Tudor" neck ruffles that France had opted for to a set of spiky, Nicola Formichetti–designed shoulders that another live model, who was encased in a display box, showed off.
Between a so-called "pump room" that featured what appeared to be a beating human heart and the red cave of a shop, which sells merch for those looking to tell the world that they indeed are "a human," there was, of course, the party, where Huck mingled with Holmes and a sci-fi writer he'd worked with on A. Human, and addressed some of the curiosity behind the whole thing. He's well aware of the skepticism—"my boyfriend was like, have you lost your mind?"—but he also made it clear that people like Kardashian and Teigen have been fans from the start. "They were like, You're building a futuristic world? Where do we sign up?"
I had a similar question—though it was hard not to take it a bit personally when I clicked the button on an iPad reading "create your heart," and the screen promptly went blank. So, I resolved to go back to engaging with the real humans around me—and particularly the one modeling the shoulders, who had been looking my way. I smiled—no response—and then winked, which only prompted my own response: a wave of embarrassment, followed by a realization of how absurd it was that a person who'd been sitting with their head in a display box for the past two hours could make me feel like I was being weird. What can I say? I'm human, and there appears to be no better place to realize that than inside Huck's so-called "adult Disney World."
Related: Kim Kardashian, Chrissy Teigen, and Tan France Temporarily Mutate Themselves for Fashion