A Madonna Biopic Was Voted Hollywood's Hottest Unproduced Script
Start making an imaginary list of the actresses who could play young Madge. Also, on the annual Black List? An Alexander McQueen biopic.
---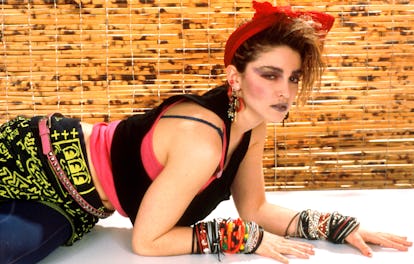 Getty Images
Madonna hasn't starred in a feature film since 2002's Swept Away, and the next time you see her in theaters may very well when she's played by someone else. A script for a Madonna biopic has been named Hollywood's hottest unproduced script by film executive Franklin Leonard's annual Black List.
The annual list is a survey of what various studio executives felt were the best unproduced scripts to had hit their desks in the past 12 months, and it has quite a track record. About a third of films that make the list go on to be made and many are quite successful. The scripts for four of the eight past Best Picture winners at the Academy Awards had been included on the list. Ten of the past twenty screenwriting Oscars (in both the original and adapted categories) are Black List alums. Awards season favorites this year alone that that had been previously featured on the list include Manchester By The Sea, Jackie, Hell or High Water, and Miss Sloane.
This year the list features 73 entries ranked by the number of votes they received and the Madonna biopic, Blond Ambition, took top honors.
The script isn't a completist telling of the Queen of Pop's life. Rather, it focuses on her early years in New York as she tries to make her debut album.
"In 1980s New York, Madonna struggles to get her first album released while navigating fame, romance, and a music industry that views women as disposable," is the official description.
No further info was released, but Madonna was up to a lot during this period even before she was famous. She was pursuing both a career as a modern dancer and musician, she formed two separate rock bands with two separate former boyfriends and, not coincidentally, briefly dated artist Jean-Michael Basquiat, started hanging out with Keith Haring, and was a regular at some of New York's most famous clubs of the decades. In other words, there's a lot of "Material Girl" material to work from even before the July 1983 release of her first album Madonna.
Elyse Hollander is the screenwriter behind the script. She's directed and written a few short films but has no previous feature film writing credits to her name. Though, she has written a few Thought Catalog articles and served as Alejandro González Iñárritu's assistant on Birdman.
RatPac Entertainment, Michael De Luca Productions and Bellvue Productions are already attached to the script, so there's a good chance it may very well get made. Interestingly, RatPac Entertainment is co-owned by Brett Ratner, the director who helmed Madonna's "Beautiful Stranger" music video, and De Luca, of course, is comfortable with sexually charged films as one of the producers of the Fifty Shades of Grey series.
Of course, no word on what Madonna herself thinks of the project. One assumes she might like a say in the ultimate telling of her life on screen – tellingly, she's never approved an official biography – but the producers of the script technically wouldn't need her cooperation to move forward with the film any more than the producer of The Social Network needed Mark Zuckerberg's approval. The use of Madonna's actual music is another matter, but Madge's first label Warner Bros. still own her back catalog. Then again, as most of the film would take place before her first album was actually released it's possible the actual songs wouldn't be necessary to the telling of the film.
Then there are those 72 other films on the list. All in all, it's an interesting lot. There's two-separate biopics of Stephen King on the list, two separate films about George Harrison, and a movie about Donald Trump.
Of more interest to the fashion crowd may be the inclusion of Chris Urch's script Lee. That's the Alexander McQueen biopic that The Weekend director Andrew Haigh has signed on to helm. Actor Jack O'Connell is already to attached to star. The film is one of two McQueen biopics in the work. [The other focuses more on McQueen's relationship with muse and patron Isabella Blow.]
Now, on to making our dream list of actresses who could play a young Madonna.