A Metropolis TV Remake Sounds Like It Could Be The Next Westworld
The creator of Mr. Robot is rebooting Fritz Lang's silent movie masterpiece Metropolis into a TV show, just in time for dystopian times ahead.
---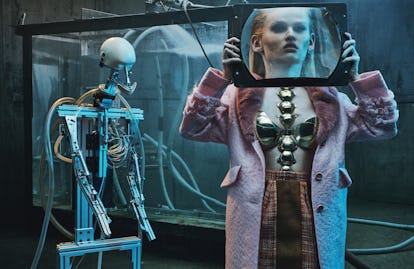 Photographer: Steven Klein Stylist: Edward Enninful
An ambitious (and not to mention expensive) cable drama based on a sci-fi cult classic that depicts a dystopian future with beautiful androids? That description doesn't just apply to Westworld anymore. Hollywood is re-imaging another decades-old sci-fi film for the small screen, and this time they're going all the way back to 1927 for the inspiration.
Universal Cable Productions has recruited Mr. Robot creator Sam Esmail to helm a mini-series reboot of Fritz Lang's masterpiece Metropolis.
The original was not only just one of the first sci-fi feature length movies ever made, but it was also arguably the first that still resonates today. The plot is loaded with classic themes like star-crossed lovers, father-son struggles and, most pointedly, the exploitation of the working class by the rich. It also has a beautiful android posing as a real person.
It's set in a world where the upper class rules the titular city from high above in their gilded skyscrapers while the lower class workers toil underground in a sprawling factory that powers the city, which means Metropolis seems primed for a political moment that's seen its own share of class warfare. Of course, the impetus for the impending revolution begins with a bit of romance. The city master's rich, layabout son meets a woman named Maria from the working class, and, naturally, they fall in love. Meanwhile, an evil scientist has created a robotic doppelgänger of Maria who soon incites the lower class into an ill-fated, ill-thought out rebellion against the rich that indeed only hurts the lower class in the end. Thankfully, everything turns out alright in the end.
Certainly, there are political themes in the plot that can be sussed out to resonate with our current political situation, but Westworld proves there's a thirst for android dramas as well. Despite seeming particularly of the moment, Universal is in no rush to push the project into production and wants to take its time to make sure it's done right. The series will be shopped out to all the major premium cable and streaming services (as opposed to just Universal's own networks, like Syfy), and the miniseries will have a budget of $10 million per episode (about on par with Westworld and Game of Thrones). According to The Hollywood Reporter, it could be two to three years before production actually begins.
Given Metropolis's intense impact on pop culture, it's sort of amazing that only just now is someone getting around to rebooting it. While every sci-fi blockbuster may owe some sort of credit to Lang, some are a bit more open about it than others. The design of C-3P0 in Star Wars in particularly is a direct homage to robot Maria.
Fashion designers as well have long referenced the iconic design of the film's evil robot. Thierry Mugler's Fall 1995 collection, in particular, was a sexed-up tribute to robot Maria. More recently, Delpozo's own Fall 2016 collection was a colorful reworking of some of the style cues from the black and white film. Keen-eyed critics also saw Maria's influence in Nicolas Ghesquière's Fall 2007 robot leggings for Balenciaga (one of the more iconic items to have come out Ghesquière's run at the label). In fact, Beyoncé once wore the legging while recreating Maria onstage at the 2007 BET Awards. Madonna, too, of course paid her own tribute with the "Express Yourself" video by David Fincher. And, in W in 2015, Steven Klein riffed on the film in a steamy fashion story with Lara Stone.
So resonant political themes, on-trend robotic subplots, some iconic looks and a Beyoncé connection. Sounds like a potential must watch series to us. We'll just have to wait a few years before we actually get a chance to binge.
Marc by Marc Jacobs top and skirt; La Perla bra; stylist's own belt. On male model: Manuel Albarran shoulder plate.

Photographer: Steven Klein Stylist: Edward Enninful
Adrienne Landau stole; Nina Ricci skirt; Miu Miu belt. On male model: Saint Laurent by Hedi Slimane trousers.

Photographer: Steven Klein Stylist: Edward Enninful
Dolce & Gabbana bra, briefs, and skirt; Fleet Ilya blindfold.

Photographer: Steven Klein Stylist: Edward Enninful
Photographer: Steven Klein Stylist: Edward Enninful
Photographer: Steven Klein Stylist: Edward Enninful
Céline skirt; stylist's own belt.

Photographer: Steven Klein Stylist: Edward Enninful
Photographer: Steven Klein Stylist: Edward Enninful
Chanel jacket and skirt.

Hair by Akki at Art Partner; makeup by Mark Carrasquillo at Art Partner; manicure by Honey at Exposure NY. Models: Lara Stone at IMG Models; Filip Hrivnak and Bryce Thompson at Soul Artist Management. Set design by Stefan Beckman at Exposure NY. Production by North6. Digital technician: Devin Doyle. Photography assistants: Alex Lockett, Calvin Laszakovits. Lighting assistants: Pawel Woznicki, Mark Luckasavage, Jeff Pearson. Post technician: Jim Alexandrou. Fashion assistants: Ryann Foulke, Dena Giannini, Sam Walker, Ann Jacoby. Hair assistant: Naomi Endo. Makeup assistant: Nina Soriano. Special thanks to Pier 59 Studios.

Photographer: Steven Klein Stylist: Edward Enninful