A New Swimwear Line That Transitions From the Sand to the Street
Clean lines and high-tech fabrics turn Jade's swimsuits into a perfect layering piece after the sun goes down.
---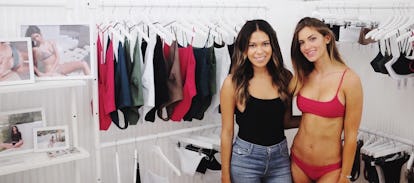 After quietly introducing her swimwear line Jade at the Cabana trade show during Miami Swim Week in July, Brittany Kozerski has already caught the attention of major high-end retailers who adore the brand's minimal aesthetic. With a background in fashion design, Kozerski, who is also an editor at Marie Claire, saw there was a void in the swim market for simple silhouettes that could transition from a swimsuit to a layering piece seamlessly.
Naturally, the brand's named after a gemstone with a simple appearance but complex properties. The suits' clean lines are created with high-tech Italian body-shaping fabrics that provide UV protection, shape retention and chlorine/oil/cream resistance. Plus, each swimsuit doubles as a basic layering piece that can be worn away from the beach, so you have even less excuse for overpacking for your vacation.
Although summer is coming to an end, Jade swimwear, available for pre-sale this Friday on the Jade website, will be available for purchase from Matches Fashion, Shopbop and Kith stores beginning in early November. It's never to early to prepare for next summer's getaway.
Why did you decide to go into designing swim? From covering the swim market as an editor and also from my work styling, I felt there was something missing. I found it incredibly hard to find a high-quality, well-cut, clean and minimal swimsuit that was sustainable and had UV protection, so I decided to start the line. I wanted to provide a go-to line of swimwear with styles that shape and accentuate the body, give minimal tan lines and also seamlessly transition into ready wear for true day-to-night options for every type of occasion. The name Jade was inspired by the way the cut brings out the beauty of a stone. Simple but more than basic.
What was the experience of getting your business off the ground? While in college, I also took design classes at the Fashion Institute of Technology in New York and Parsons Paris, so I had the background to know how to sketch and other design basics. I also grew up in a family of entrepreneurs so I had seen on a daily basis how businesses start and are successfully run. And of course, my time as an editor gave me the knowledge of what it truly takes to start a fashion business. But I definitely had to learn the whole production side of the business, which is rarely shared or discussed. The hardest part of course was finding an amazing swim factory and sourcing fabric. It was a lot of work and countless late nights but I was so passionate about starting the line it helped me stay focused.
What were the main pieces you began with? The All In One Piece (a V-neck one piece) and the Trophy One Piece (a scoop-neck) were two of the first silhouettes I started with. I wanted to create swim styles that could seamlessly transition into ready to wear pieces, so I designed these to also work as bodysuits under jeans, skirts, etc.
What style do you find is popular with your customer? The Most Wanted bottom is one of the most popular styles because it was designed in a way to sit comfortably at your hips or be raised on the sides to give a more 90's sexy look. It's like two bottoms in one. Also, the Chain Reaction Collection has been very popular with retailers. It's a loop chain detail I developed to give an edge to some of the silhouettes and it will be the brand's signature detail, reinvented every season.
What swim trends are you seeing among women right now? I actually think there's a return to basics with swim. The swim market has pushed it so far that it's incredibly hard now to find a suit without excessive cut-outs, straps, embellishments, etc. I think women want swim they can actually wear comfortably and confidently while still showing their body in a chic and sexy way (all while avoiding terrible tan lines). In the same vein, there's a big day-to-night trend of swimsuits that can be worn layered with traditional ready to wear and worn throughout all seasons.
Let's talk about fit. What does it mean to you, your brand, and how is it important? What is the key to great fit? Fit and fabric are the two main focuses of my line. As an editor and stylist, I've seen so many examples of great ideas that weren't executed successfully because of bad fit. One of the most rewarding experiences so far has been trying the suits on different body types and seeing how the cuts adjust and work for each body shape. What I love about our fit is that in addition to the cut, the fabric has two-way stretch and shape retention technology so the shape won't get stretched out or altered after multiple wears.
Is there a certain beach that inspires you? I was actually on vacation in Kona, Hawaii when I decided on the colors for this debut collection. I was on a helicopter tour around the island landing at waterfalls, pockets of tropical forests and even active volcanoes. That's when I decided to do a nude (for the sand), rose (for the red hibiscus flowers), sage (for the trees), deep teal (for the ocean), black (for the volcano ash) and white (for the white mist around the waterfalls).
Where are you excited to travel this summer? Summer has been insane launching the line, so I actually postponed taking a long summer vacation. Instead, I'm planning a trip to Marrakech this fall. I went for a couple days in February after Paris Fashion Week and was so inspired by the architecture, colors, textures and history. Also, planning a trip to Bali this spring to take a look at new fabrics and fabric techniques. Can't wait!
Who's the style icon for your line? Bianca Jagger — my all time style muse. She was so effortlessly chic, with a minimal aesthetic. There's actually a picture I found of her in a white v-neck dress on vacation that I used as inspiration for this season. I could see her wearing the white All Around Bandeau Top and Rise Bottom on vacation in the Seychelles. And it's so ironic that her daughter's name is Jade.
Talk to me about your plans for the future. What's next? The plan for the line is to expand beyond swim into other clothing categories using the same principle of minimal, clean canvas, perfect silhouette pieces in a variety of fabrics. Next season, I want to experiment with new silhouettes and different fabric types not traditionally used for swim.
Watch W's most popular videos here: