A Poseur's Guide to the U.S. Open
Everything you need to know about this year's championship, from the hot new players to "toegate," so you can convincingly look like you know a thing or two about tennis.
---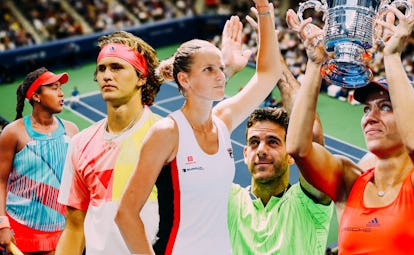 Collage by Biel Parklee.
The most fun to be had during New York Fashion Week in September is at the U.S. Open tennis. Just ask the scores of fashion folk who play truant each year and ditch the fashion tents for the hospitality suites. It's not hard to see why. The free Champagne and nibbles come to you, the the premium seats beat being on your feet all day, and the spectacle on offer around the grounds is often more dazzling than even the visual bombardment of #NYFW.
This year's U.S. Open, which ended yesterday, did not disappoint—even for those who watched from their living room and didn't get to go home with a logo-laden goodie bag. While much hyped youngsters like Nick Kyrgios and Madison Keys again failed to reach the second week of a major, late bloomers Stan Wawrinka of Switzerland and Angelique Kerber of Germany triumphed in highly competitive men's and women's singes finals. Thirty-one-year-old Wawrinka, and Kerber, a 28-year-old leftie who in winning the title also ended Serena Williams' 186-week reign atop the women's rankings, emerged from their "best supporting actor" ranks as break-out stars at an age when most players are considering their next role in life.
Their victories—and the notable finals-weekend absence of ratings crack Roger Federer, who is sidelined for the rest of the year with a knee injury, and Serena, who is now 35 and stumbled in the semifinals stage for the second consecutive year—signaled a gradual changing of the guard in a tournament marked by wholesale change.
Quiet, Please For one, this year's event saw the introduction of a $150 million retractable roof over center court. Manna for fans who routinely get shafted by the heavens (rain has interrupted play during the two-week event every year for the last five years), the roof also brought with it an unexpected headache for organizers, with the chatter from the nosebleed sections reverberating around the new steel structure and making for a very loud on-court experience. Players like ousted French Open champion Garbiñe Muguruza complained and umpires tried in vain to quite the well-primed hordes.
Code Violations Almost as loud as the amplified chatter on court were the garish neon outfits offered by sporting giants Nike and Adidas. The chromatic volume has reached such worrying levels (some players resembled human highlighters) that if the fashionistas in attendance aren't going to do anything about it, then it might well be time to summon the Tennis Integrity Unit, the sport's ridiculously named authority more typically concerned with doping and match-fixing. In no other sport would a player be allowed to dress in the same color as the ball—or as their opponent, as was often the case, making it practically impossible for viewers to differentiate between opponents. When Bethanie Mattek-Sands' crimes against fashion offer a welcome respite from the Day-Glo onslaught, something has to give.
Ch-ch-ch-ch-Changes As the fortnight played out, it also became clear that other changes are either in the ether or at least should be. The USTA experimented with a 20-second serve clock in the juniors events in an attempt to cut back on time-wasting between points and there is also continued talk of eliminating the service let, meaning that if a serve hits the net but still goes into the service box it would be playable. But at a time when attention spans are shorter than ever, live TV is tanking, and injuries continues to take their toll, asking men to play best-of-five tennis (often for over four hours!) is as anachronistic as the wooden racquets of yesteryear.
There were developments also on the digital front, most notably with retired player Andy Roddick's amusingly informative commentary on Periscope, which had obvious traction at the beginning of the tournament. But by the time Roddick had name-checked sponsor Grey Goose and its unctuous Honey Dew ("the official cocktail of the U.S. Open") for the umpteenth time, it felt less like a refreshing change and more like having to endure a marathon five-setter on the hottest day of the year.
Plus ça change Top ranking Novak Djokovic, or "Djovak Nokovic," as a hapless ESPN commentator referred to him when the channel cut to a baseball game after the men's match, came up short in the final and in his efforts to endear himself to the tough New York crowd which has failed to embrace him over the years. His apparel sponsor, Uniqlo, even mounted a pre-tournament rehabilitation campaign complete with its own hasthag, #bringthelove. His calling for a trainer in the business end of the fourth set against Wawrinka—a questionable injury timeout that Tennis Twitter immediately dubbed "Toegate"—did him no favors. Despite unexpected recent defeats at Wimbledon, the Olympics and in New York, and amid rumbles of unexplained "personal problems," he is still the men's number 1 by a long shot and too great a player to taint his already considerable legacy with a reputation for gamesmanship.
New-gen stars like Dominic Thiem, Alexander Zverev and Jared Donaldson, who surprised many with his run to the third round, would do better to learn from former two-time champion Rafael Nadal. After losing in arguably the best match of the tournament, a four-hour slugfest with French tyro Lucas Pouille, the ever gracious Rafa stopped to sign autographs and oversize novelty tennis balls for fans. Now if someone could just get him to stop dressing in head-to-toe neon.
Watch W's most popular videos