A Star Is Born Is What Meme Dreams Are Made Of
Call it "the meme movie" if you want, but these online artifacts spawned by A Star Is Born are actually quite funny.
---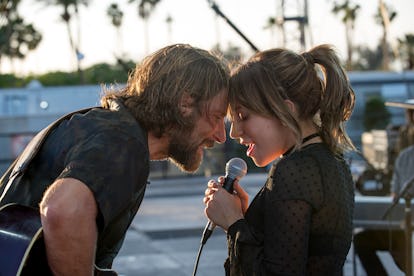 Neal Preston/Warner Brothers
There is a scene in A Star Is Born, first introduced to prospective filmgoers via the trailer during the lead-up to the movie's release, where Bradley Cooper (as the waning country-rocker Jackson Maine) yells out to Lady Gaga (playing the nobody turned superstar named Ally) before she walks into her house.
"Hey," he says, rolling the window down. "What?" she replies. "I just wanted to take another look at you," he announces while she quickly smiles and turns her nose up, before the trailer quickly cuts to another scene.
When watching the film for the first time in theaters, it becomes clear that, in full context, this moment is intended to be sweet and a little bit funny. Romantic, even. But thanks to the trailer and the memes spawned from it, the audience already knows that this moment is coming, and attempts to stifle small, silly laughs during a somewhat pivotal scene are rendered futile.
The press cycle for A Star Is Born was so long and drawn out (and exciting, in turn) that of course this clip from the trailer would be memed to infinity and beyond for an entire month leading up to the release of the film. Understandably, Lady Gaga fans could not help themselves. This was to be her first major film role—how could a fan of Gaga not be so excited to the point where they might attempt to make some viral moments happen out of her debut in the trailer as Ally? Parody trailers, GIFs, T-shirts, genre-bending crossover memes, historical references to the three previous iterations of the classic film—all of them gave fans a jolt to go off the deep end and into the galaxy of A Star Is Born memes circulating on social media.
In addition to the "Hey" moment from the trailer, Gaga's appearance onstage, where she belts out an impressive crescendo wail for "Shallow," the duet performed with Cooper. In the film, the performance of this song is bound to give audience members hair-raising chills. In the trailer, it is the perfect fodder for memes.
There is also the play on the pronunciation of the superstar character's name, Ally, which doubles as a homonym for one who supports or stands with an oppressed group.
Of course, there are the memes spawned by the film's so-bad-it's-good pop song, "Why Did You Do That to Me?" Whether or not this song is actually good is debatable (an argument most expertly sketched out by Vulture this week), but the memes born from this tune and its liminal existence along the thin line between "good" and "bad" music are undeniably funny (and relatable, because the song is a bop).
Lastly, there is one Star Is Born meme that is the purest, most Internet of them all—a stunt casting of a remake with ASMR queen Life with Mak (you may recognize her as the young girl with red hair who whisper-acts wholesome but funny scenarios for the ASMR YouTube community; she was naturally memed to infinity on Twitter) and Staten Harry, a young Lady Gaga stan whose lip sync videos went viral on social media.
It's what meme dreams are made of.
Related: How Lady Gaga's Pop Songs in A Star Is Born Were Made