A Stunning New Way to Hang Your Paintings
At 303 Gallery in New York, Hans-Peter Feldmann creates an atmospheric new exhibition.
---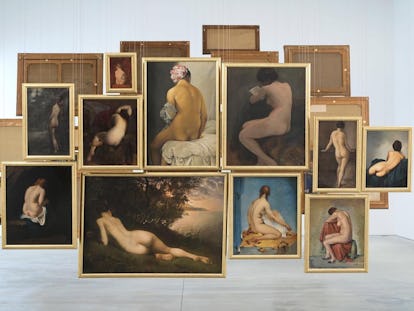 Hans-Peter Feldmann's latest exhibition at 303 Gallery in New York rethinks the whole notion of a painting show. Taking oil canvases by amateur artists he found at auctions, he suspends them from the ceiling in clusters, creating a new dialogue both between the works and with the viewer, who can walk amongst them as if in a zero-gravity chamber of art. When you've seen the back of a painting, it loses a little bit of its mystique.