A Wrinkle in Time Costume Designer Paco Delgado Explains How He Achieved Otherworldly Looks
"Her character is pure energy."
---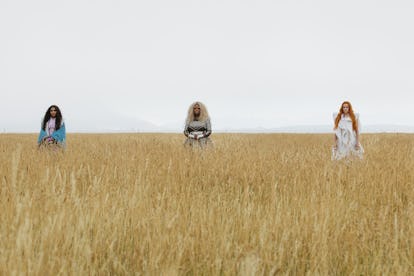 Atsushi Nishijima
A mere mortal up against the elements of the universe? While that sums up the central journey within Ava DuVernay's A Wrinkle in Time, it could describe the quest the film's costume designer, Paco Delgado, went on as well. The Oscar-winner best known for outfitting the casts of Les Misérables and The Danish Girl didn't just have to think out of the box when dreaming up costumes for the Mrs. Ws—the "warriors who serve the good and light of the universe," played by Oprah Winfrey, Reese Witherspoon, and Mindy Kaling—he had think out of this world. With help from the famed wardrobe designer Michael Schmidt, who's worked with everyone from Madonna to Rihanna, Delgado came back down to earth with dresses made from pleated plastic, LED lights, and handmade paper, to name a few unexpected materials. And it seems fair to say that the costume design is the unnamed supporting character in this movie. Below, Delgado explains how he mastered unconventional materials, why Winfrey's looks were the most involved, and the secret messages Kaling wears.
What was your starting point? It always starts with a script, obviously. The next thing is the director's vision, and Ava [DuVernay] had a really, really strong one. She wanted a movie about a girl on a journey that was physical and also an inner journey, where she gets to know herself and overcome her fears. For the Mrs. characters she wanted something that didn't look like it belonged to this world as we know it. They had to be fantastical.
How did you go about determining what an otherworldly costume could be? [Laughs] It was such a different and more fantastical world than what I normally do. I was looking at a lot of abstract references. For example, in the case of Mrs. Who, I looked at volcanoes exploding and galaxies and electricity and elements like flowers and plants, butterflies and birds. I was also looking at different cultures and mixing from different places. Mindy Kaling's character recites quotes from books, and she became this librarian of the universe, so we wanted to introduce prints that reflected different languages. Some of the alphabet she has printed on the dresses is invented. It's not even real. When I had enough ideas, I looked at Japanese fashion like Comme des Garçons—people who aren't working with normal shapes.
You can see that in the silhouettes Mindy Kaling wears; her hips are always so exaggerated. The thing is we were experimenting with everything. That skirt is made from handmade Japanese paper. We used materials I've never worked with before through trial and error until we figured out how to make them look like costumes. Sometimes we'd play around with things and they'd look beautiful but they were so heavy you couldn't wear them. But we were working with people who believed in the project, and different architects of their profession like Michael Schmidt, who does costumes for Lady Gaga and Cher.
What other usual materials did you use? We used a lot of plastics—thermal, malleable plastics—metal, paper, gelatin. We were thinking out of the box. I also used fiber optics to create light inside of the dresses. Obviously it's a lot different from working with silks and wools so it was exciting to work in a different way.
Were there fiber optics in the linear dress Oprah wears? Exactly. That's when she's in Camazotz. That was a huge challenge because we were trying so many things and it wasn't right enough. It took ages to get there. The other thing is we wanted to create beautiful pieces that weren't just CGI. That was an interesting challenge.
Out of all the looks, which was the hardest to pull off? Some of the costumes took more time to investigate and produce. Oprah's were more technological than the others so they had a longer process. We were pleating materials that normally weren't pleated, like plastics. That took a lot of trial and error. When you finally find the way you want it to look, it's very rewarding.
Is there a reason Oprah's costumes were the most labor-intensive? Because of the materials we used, and also because she had to have a powerful structure. She was a star in the universe, and then she became a warrior battling against evil in the universe. So she was integrated into a supernova. The idea behind her character is that she's pure energy. So she wore armorlike shapes and metals and reflective materials that are difficult to work with.
How does Reese Witherspoon's clothing evolve throughout the film? At the beginning of the book, she's stealing bed linen to wrap herself in it, and I thought that bed linen wouldn't be very interesting. For the second dress, I was thinking of flowers like calla lily. She was very pure and the closest to the children so I thought it would be nice for her.
What was the inspiration behind Michael Peña's suit? He was part of the journey into Camazotz. I thought it would be funny to introduce a Hawaiian shirt and shorts on the beach, and it became seaside prints. And when the children realize he's not the person he's supposed to be—he's a marionette—I thought, Why not make a suit like Pinocchio?