Through the Roof
Aaron Betsky, curator of this year's Venice architecture biennale, dares to look beyond buildings.
---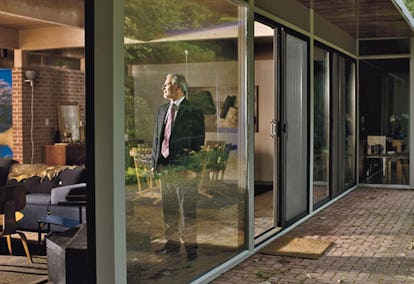 It's not unusual for house hunters to start their search with a list of must-haves—four bedrooms, two baths and a good school district, for instance. But two years ago, when his appointment as director of the Cincinnati Art Museum forced him to relocate to the Midwest, Aaron Betsky presented his real-estate broker with a decidedly more difficult request. Back in 1996, he had attended a party at the home of Charles Desmarais, then director of the Contemporary Arts Center in Cincinnati, and had fallen in love with his midcentury house. "It was by Carl Strauss, who was Cincinnati's modern master," recalls Betsky, who, before his move to Ohio, led the Netherlands Architecture Institute in Rotterdam. "I told the Realtor: 'I want Charles Desmarais's old house, plus a thousand square feet.'" Somewhat miraculously, she was able to deliver. "We've had amazing luck with houses," says Betsky, an animated 50-year-old, as he gives a tour of the 1956 wood, brick and glass gem that he now shares with his husband, artist Peter Haberkorn.
Betsky at his home.
Anyone familiar with Betsky wouldn't be surprised by his very specific vision. Over the course of his career as an architect, curator and critic, Betsky has thought a great deal about buildings. He was an early champion of Rem Koolhaas and other Dutch architects; later, he was an influential supporter of Zaha Hadid. But these days, he's making an argument that there's more to architecture than floors and walls. "Architecture has become absent from most of our buildings," he says. "Most buildings are defined not by architects as much as by building codes, financial operations and computer programs. Buildings have become the tombs of architecture."
If this sounds hopelessly abstruse, Betsky's curatorial work at Venice's 11th International Architecture Exhibition, better known as the Venice architecture biennale, should make his ideas a little more, well, concrete. The title of his show, which opens on September 14, is "Out There: Architecture Beyond Building," and its mission, he says, is to point the way toward "an architecture liberated from buildings." The show will feature experimental installations that Betsky hopes will prompt viewers to rethink how their environment is shaped. For instance, An Te Liu, a Toronto architect, will create an exhibit out of air purifiers and ionizers—systems that architects generally go to great lengths to hide. American Greg Lynn, meanwhile, will build furniture out of plastic toys. One section of the exhibition will be devoted to showing clips from movies such as Star Wars, Dr. Strangelove and Moulin Rouge!—films that have conjured new environments. "The idea is to remind people there are other worlds possible than the ones we keep making out of sticks and stones," says Betsky. It is his first time at the helm of the prestigious exhibition, which he has taken on in addition to his "day job" at the museum.
Betsky's unorthodox approach to curating befits his untraditional upbringing. His grandparents were anarchists, and Emma Goldman was his mother's godmother. Born in Montana, Betsky moved to the Netherlands at age four, when his parents, both literature professors, received Fulbright teaching fellowships. Growing up outside Utrecht, he attended an experimental school—the teachers were called the students' "coworkers." "I've always felt like the outsider," he says. "Not only was I American, but I was the smart-alecky kid in a country where you're not supposed to show how smart you are."
When he arrived at Yale, he had another dose of culture shock. "My freshman roommate had to explain football to me," he recalls. Betsky went on to the Yale School of Architecture, where he met Frank Gehry, then a visiting professor. Gehry hired Betsky as an associate in his L.A. firm; he worked there for two years. "He has an inquiring mind," says Gehry of Betsky. "He questions stuff, and he's not afraid to show his taste. At times I disagree with him, but I'm always pleased he put it on the table."
Hani Rashid of New York's Asymptote Architecture says that Betsky has "a nose for architecture's edge," embracing minimalism in the 1980s, for example, "when opulence and conservativism reigned."
The last architecture biennale, curated by Ricky Burdett, dealt with the dilemmas of urbanism and was praised for its real-world approach. How the critics will respond to a curatorial vision that is more about fantasy remains to be seen. "Mostly, I hope it's an exercise in raising questions," Betsky says. "We need to realize what's already around us and reuse it, rearrange it, rethink it. It's not necessarily about the making of a bright, shiny, new thing," he continues, and then cracks a smile. "Although I have a weakness for that too."