Lauren and Aaron Paul Welcome Their First Child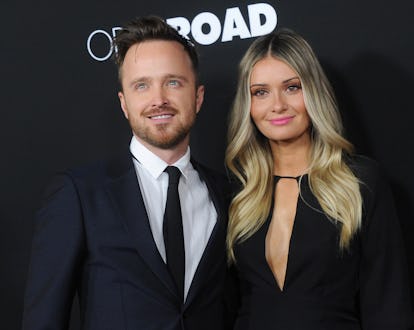 Gregg DeGuire/WireImage/Getty Images
Welcome to fatherhood, Jesse Pinkman! On Thursday, Aaron Paul and his wife, Lauren, took to Instagram to announce that they had welcomed their first child together, a baby girl.
"My heart," the Breaking Bad star captioned a black and white photo of his daughter's tiny foot. Lauren revealed a little more in her post: She uploaded one shot of the newborn swaddled in a blanket on her lap, and another, taken from above, in which she rests in a hospital bed, cradling the baby on her chest. "There are no words that will ever be able to explain what just happened to my heart." she captioned the pics.
The new parents have yet to announce their daughter's name, although it's possible that they still haven't chosen one. Last December, the actor told People that, while he and Lauren had been brainstorming monikers for their new arrival, they weren't going to make a final decision until she arrived. "We have a few, a few names," he said. "If one of us didn't like one of the names, it never made it into the pile. We have a handful of names and we're going to name her once we meet her."
The Pauls, who married in May 2013 in Malibu, announced that they were expecting their first child last September. At the time, Aaron posted a photo of Lauren looking down at her growing baby bump. "Hey everyone. Look what I did. Words can't express how excited I am that this little one has entered our lives. Just thought it was time I would share this beautiful news with all of you." he captioned the sweet photo. Lauren, a director, producer, and co-founder of the Kind Campaign, shared the news the same day with a photo collage of her and her husband's baby pictures, plus a sonogram photo of their baby-to-be. "Oh hi!" she wrote.
Related: How Kirsten Dunst Ended Up Making That Two-Second Black Mirror Cameo You Probably Missed