Aaron Sorkin's To Kill a Mockingbird Broadway Play Sparks Lawsuit From Harper Lee's Estate
All because of the depiction of Atticus Finch.
---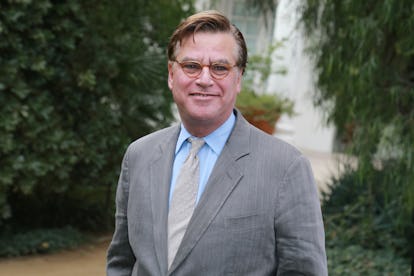 Leon Bennett/WireImage
Even today, almost six decades after it was published, To Kill a Mockingbird is still as relevant as ever. That's one of the reasons Aaron Sorkin decided to helm a Broadway adaptation of the classic. Months before it will make its December 13, 2018 debut, however, Harper Lee's estate has presented a roadblock for the production with a lawsuit. The late author's lawyer, Tonja B. Carter, is suing the producers of Sorkin's rendition for its failure to "remain faithful to the spirit of the book," as the agreement Lee signed in 2015 mandates, according to The New York Times.
The central problem for Lee's estate is in the portrayal of the book's protagonist Atticus Finch, who is being played on Broadway by Jeff Daniels. According to Carter, Finch doesn't come off to be the inclusive hero Lee wrote him as. Instead, Finch is represented as "a naïve apologist for the racial status quo, a depiction at odds with his purely heroic image in the novel," per The New York Times. "Based on Ms. Lee's own father, a small-town Alabama lawyer who represented black defendants in a criminal trial, Atticus Finch is portrayed in the novel as a model of wisdom, integrity, and professionalism," states the lawsuit.
Scott Rudin, one of the producers behind the play, perhaps best known for No Country for Old Men, The Social Network, and Moonrise Kingdom, has defended the portrayal of Finch. "I can't and won't present a play that feels like it was written in the year the book was written in terms of its racial politics: It wouldn't be of interest," he told The New York Times. "The world has changed since then."
Aaron Sorkin opened up about his decision to portray Finch as such in an interview last fall, telling Vulture, "As far as Atticus and his virtue goes, this is a different take on Mockingbird than Harper Lee's or Horton Foote's. He becomes Atticus Finch by the end of the play."
Rudin has since dismissed the lawsuit, telling Deadline, "The estate has an unfortunate history of litigious behavior and of both filing and being the recipient of numerous lawsuits, and has been the subject of considerable controversy surrounding its handling of the work of Harper Lee both during her illness and after her death. This is, unfortunately, simply another such lawsuit, the latest of many, and we believe that it is without merit. While we hope this gets resolved, if it does not, the suit will be vigorously defended."