What It Means to Make Abercrombie Great Again
The iconic American brand hosts a rooftop party with a performance by Third Eye Blind. A collision of current affairs and '90s nostalgia occurred on the final night of the Democratic National Convention.
---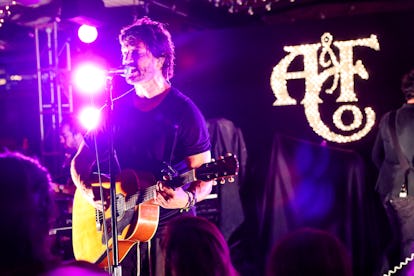 Neil Rasmus/BFA.com
Stephan Jenkins, the lead singer of Third Eye Blind, lounged in his air-conditioned tour bus Thursday evening in head-to-toe Rick Owens. He and his band were parked outside the McKittrick Hotel, where they would perform later for a cocktail party hosted by Abercrombie & Fitch. Yes, both Abercrombie and Third Eye Blind, two icons of cult '90s Americana, are in the middle of a comeback in 2016.
All Jenkins wanted to talk about, however, was one of America's greatest designers: Rick Owens. He wore black Rick Owens "Geobasket" boots, black harem-stye shorts, and a tight black muscle tee. "He's got these dualities, but they're never pronounced," Jenkins said of the designer. "He's both aspirational and humble; he is fashion, but his luxury is saying, 'I don't need it,' at the same time." Owens is obviously the antithesis of Abercrombie on the surface, but his clothes offer a different version of the same American dream.
In addition to his lasting power in the fashion industry, Jenkins also admired Owens' all-black, goth look. "The memento mori aspect of goth is being alive in the moment that you're in, because remember: 'tick tock.' There's an austerity to Rick Owens, whereas a lot of American clothes reflect a fear of death; it's just about getting more and more shit."
Despite the fast-fashion nature of Abercrombie, however, the brand has also maintained a similar lasting power. "Next June, Abercrombie will celebrate its 125th anniversary," said the brand's president, Fran Horowitz. "So we have a lot of nostalgia to work with."
In this way, both Abercrombie and Third Eye Blind are working with duality: they want to cash-in on the nostalgia that has kept them around for so long, while also remaining relevant with a modern makeover. For Abercrombie, this means growing up with its customer. Millennial consumers are more conscious of what their clothes are made of, how they relate to trends, if the models wearing them are diverse, and what a brand stands for overall. In the past, Abercrombie was rife with controversies regarding race and body image issues, but on Thursday, the phrase "Going shirtless is overrated" was plastered all over the walls.
Third Eye Blind has also inserted itself into the current American political climate. They were last seen at the Republican National Convention faking a "charity concert," where they took the opportunity to sing songs about LGBTQ rights and stand on a soap box talking "tolerance" to a crowd of booing conservatives. This week, the band also released a song about police brutality titled, "Cops vs. Phone Girl," which is the first single off their upcoming album, "We Are Drugs."
The Abercrombie x Third Eye Blind event on Thursday ironically also coincided with the final night of the Democratic National Convention. But all guests like Atlanta de Cadenet Taylor, Chelsea Leyland, and a slew of models could focus on was singing the words to "Semi-Charmed Life." Something that's remained the same though about semi-charmed life in America is that we all still want something else.
One guest, who said he was recruited as a teenager by Abercrombie in 2001 to bring some diversity to a campaign, even admitted to his vote for Jill Stein.
Abercrombie x Third Eye Blind
Stephan Jenkins of Third Eye Blind.

Neil Rasmus/BFA.com
Atlanta de Cadenet Taylor and Chelsea Leyland.

Neil Rasmus/BFA.com
VP of Men's Design Aaron Levine.

Neilson Barnard/Getty Images
Stephan Jenkins of Third Eye Blind.

Neil Rasmus/BFA.com