The Academy Awards Say They Will Now Hold Members Responsible for Their Actions
Members will be expelled from the Academy if they abuse their power in a manner that violates the new Standards of Conduct, according to a memo from Academy CEO Dawn Hudson.
---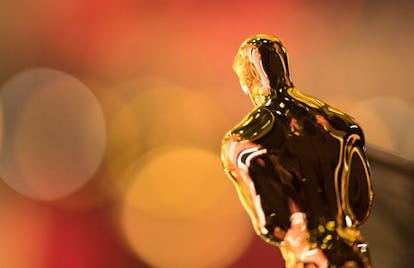 Christopher Polk/Getty Images
As awards season approaches, the Academy's approval of the new Standards of Conduct marks a necessary change in the way film and television institutions will investigate allegations of sexual assault in Hollywood. Recently, Harvey Weinstein was ejected from the Academy after multiple women came forward with stories of being sexually assaulted by the producer. With the new board-approved Standards of Conduct, Weinstein may not be the only member of the Academy to face expulsion, as more women pledge to be open about their experiences with sexual assault in Hollywood.
Dawn Hudson, CEO of the Academy of Motion Picture Arts and Sciences, sent a memo last night to members of the Academy, detailing the new Standards of Conduct expected to be upheld by all members. After launching a task force led by Academy Officer Governor David Rubin, the Academy has met with consultants from Ivy League institutions and human resources experts to discuss ethics, business, philosophy and law, and reviewed codes of conduct from UCLA and AFI in order to construct their own code. Allegations of assault, or "misconduct," will be reviewed by the Academy's task force to assess whether or not memberships will be revoked.
The approved Standards of Conduct insists that members of the Academy must behave in accordance with the ethical standards in place by the board, enforcing the rule that "There is no place in the Academy for people who abuse their status, power or influence in a manner that violates recognized standards of decency." The Standards of Conduct for members also declares that the Academy is "categorically opposed to any form of abuse, harassment or discrimination." The Board of Governors is licensed to "take disciplinary action permitted by the Academy's Bylaws, including suspension or expulsion" if any member of the Academy is found to have violated the standards and terms listed in the statement. Hudson closed her memo to members by reiterating the Academy's goal of "fostering the kind of environment that enables and supports creativity, and furthers the Academy's mission."
The new Standards of Conduct begs the question—if every sexual predator who holds membership in the Academy were to be expelled from membership, how many Academy members would be left? Casey Affleck—who won Best Actor last year for his performance in Manchester by the Sea—will present next year's Oscar for Best Actress, but the [prior allegations of sexual harassment]https://www.vanityfair.com/hollywood/2017/11/armie-hammer-casey-affleck-nate-parker) by two women could potentially be enough cause for his membership to be reviewed by the Academy according to the new standards. Brie Larson, who won Best Actress in 2016 for her portrayal of a victim of sexual assault in Room presented Affleck with his Oscar, but purposefully did not clap for his acceptance. At the 2018 Academy Awards, everyone will be anxious to see if those who have reportedly abused their power to violate the Academy's standards will face consequences or even appear at the ceremony. The procedures outlined in Hudson's memo will hopefully allow for rigorous investigation of all allegations of sexual assault by Academy members, including those regarding Kevin Spacey, James Toback and Brett Ratner.
Related: "I Will Not Be Silent": Nicole Kidman, Jennifer Lawrence, and Emma Stone Make a Pledge to Speak Up Against Sexual Assault