Exclusive Music Video Premiere: ACES's "Baby I Don't Mean To Ignore" Was the Result of a Very Productive Date Night
Musician and film editor Alexandra Stewart, who records as ACES, discusses the genesis of her latest music video.
---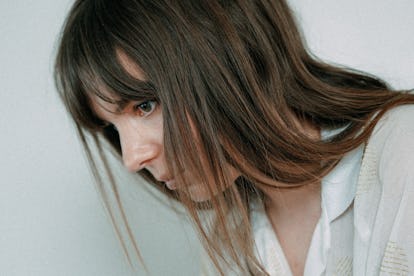 When the musician Alexandra Stewart got into her car one evening in early fall 2016, she intended to make a music video—she just wasn't sure for which song. She set out on the road with husband Oresti Tsonopoulos behind the camera as they wove through lower Manhattan, finding their way to the Great Jones Café in the NoHo neighborhood.
Stewart was already well acquainted with the spot. "A great margarita, a great time, a great jukebox," she said. "There's always the same bartender there." They paused for a drink and Tsonopoulos started to film while Stewart picked out a song on the jukebox. When she returned home, poring over the footage, a narrative started to emerge. This, she realized, was the video for "Baby I Don't Mean to Ignore," a track from Stewart's upcoming EP Stranger, her latest musical effort as ACES. (Stewart started ACES as a musical collaboration, but, drawing its name from her initials, it's always fundamentally been a personal project.)
"You really get the feeling like she's on a mission," Stewart said of the video. "There's this vulnerability to the lyrics and the chorus, but ultimately, by the end of the song, she's on a mission. She knows what she's going to do." But what exactly that purpose is, is left up to the audience.
The jukebox scene made its way into the final video, which premieres exclusively on W. Several months later, Stewart set out again to shoot a few "more formal lip-syncing music video shots" to thread the whole thing together, but those initial shots remained. The result is the moody, glamorously-lit video that stars Stewart herself wandering through NoHo by night, the camera trailing at a slight distance.
"I had this image of two people before any relationship, before they've had a chance to do anything but decide for themselves how they feel or even what they plan to do about it," Stewart said of the track. "There's a lot of fear and excitement in that." It was that mood that she hoped to translate both musically and visually (a film editor and director by trade, she also directs all the videos for ACES in addition to writing music). That image wasn't harvested from any specific personal experience—Stewart has been in a relationship since high school, and married for four years—but instead the product of a mood board Stewart compiled, including her own images and those of other artists, while writing the song.
With her husband behind the lens, "It helped me to be more vulnerable and play that character a little bit," Stewart said. "We were like, 'This is a really interesting date night.'"
Related: ZZ Ward's "The Deep" Music Video Is the First Look at Her Most Personal Record Yet