New York Fashion Week Attendees to Wear Blue Ribbons for ACLU
Fall's hottest accessory might already be in your closet.
---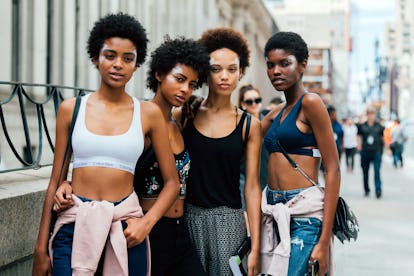 Melodie Jeng/Getty Images
Like most other things in the wake of the 2016 election, accessories have gotten more political and this fall at New York Fashion Week you can expect to see even more of that. When designers show their collections for Spring 2018 next month, many of the attendees will be sporting blue ribbons in unison to raise awareness for the A.C.L.U.. The initiative, dubbed "Fashion for A.C.L.U.," is being organized by the Council of Fashion Designers of America in hopes to take a stance against racism and bigotry, which have become increasingly visible throughout Donald Trump's presidency.
"We want to be on the front line, not the sidelines, to boldly fight to protect our precious rights and freedoms, which has taken on a renewed urgency after the heart-wrenching events of Charlottesville," CFDA president and CEO Steven Kolb stated in a press release. "Our goal is to actively support concrete work that will move our country meaningfully forward. The A.C.L.U. is doing that critical work."
Not only will the CFDA be supporting the A.C.L.U. but so will dozens of designers, ranging from Adam Selman to Alice + Olivia, Derek Lam, Diane von Furstenberg, Everlane, Monse, Narciso Rodriguez, Opening Ceremony, Prabal Gurung, Public School and Tracy Reese, to name a handful. Those designers, as well as many of their peers, will be passing out blue ribbons at their runway shows emblazoned with "Fashion for ACLU."
Some of the celebrity set attending New York Fashion Week, however, might not need those as the blue ribbons have already become a red carpet staple over the past nine months. Recall the 2017 Academy Awards where everyone from Ruth Negga to Karlie Kloss, Lin-Manuel Miranda, Sting, and Barry Jenkins wore the blue ribbons. Not to mention, Emma Stone sported one after taking home Best Actress for La La Land when she attended the Vanity Fair after-party. "The support of the entertainment community for the A.C.L.U.'s work protecting our civil liberties has been nothing short of spectacular, and tonight is no exception," executive director of the A.C.L.U. said Anthony D. Romero told Vanity Fair at the time. "Their voices are crucial in our fight to defend the Constitution and its promise of equality and justice for everyone in our country—no matter who they are and where they come from."
This isn't the first time though that the CFDA have made human rights the focus of New York Fashion Week. Just last season, when designers showed their Fall 2017 collections, the CFDA passed out pink pins that brought awareness to Planned Parenthood. While trends come and go after every New York Fashion Week, embracing inclusivity is one that will never go out of style.
Related: Why Fashion Has Every Right To Be Political Right Now
I Am an Immigrant: