Hollywood Mans Up
A rowdy bunch of Australian actors is muscling its way onto the silver screen. Matt Diehl meets the new Aussie posse.
---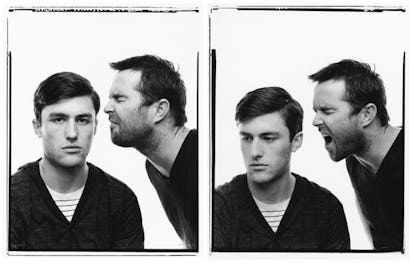 "I get asked all the time, 'Why do these Aussies get all the work?'" says Guy Pearce, commenting on Hollywood's current fever for casting his countrymen. Pearce believes the appeal of actors from Oz stems from the fact that the continent is "built on a convict history. We started with nothing, and had the world stripped from us," he says. "Aussies have a level of vulnerability, a twinkle in the eye, that works really well onscreen."
There's no shortage of twinkling convicts in Pearce's latest film, the gripping indie epic Animal Kingdom, which won the World Cinema Jury Prize at the 2010 Sundance Film Festival and was just released Stateside. The film explores the violent tribulations of a Melbourne crime family—and provides a veritable cheat sheet of Australian actors who matter, casting established stars like Pearce alongside such fresh discoveries as James Frecheville and Sullivan Stapleton, whom insiders are tipping as Down Under's newest candidates for stardom. "James hadn't done a lot before, but he's a bright kid," Pearce says of Frecheville, 19, who stars as Animal Kingdom's protagonist Joshua "J" Cody, a hulking, numbed teenager thrust into the underworld when his mother dies of a heroin overdose. Stapleton, who plays Craig, the clan's drug-addict wild card, is being compared to Russell Crowe and Eric Bana, actors who are equally believable in period tights or cracking someone's head with a beer bottle.
"If you're looking for a 'guy's guy,' you're remiss not to look in Australia," says Margery Simkin, who recently cast Stapleton in The Odds, a TV pilot from producer Joel Silver. She knows whereof she speaks—when Simkin ran into trouble finding the male lead for Avatar, she checked out Oz's every up-and-comer and discovered Sam Worthington, then a largely unknown Australian who ended up as the protagonist of the largest-grossing film ever. "There were good guys in the States, but when we saw Sam, he just popped," she says. "A lot of young American actors have a need to be 'cool.'"
Tinseltown gatekeepers increasingly find Aussies a compelling antidote to the manicured pretty boys of the American box office. Frech­eville simmers with muted intensity.
And there's a reason Stapleton, 33, is mostly shirtless in Animal Kingdom. Though he has been part of Mel­bourne's film and television scene since he was a teenager, he's also built an impressive physique working on construction sites in between roles. "I had thought about coming to L.A. and giving it a crack, and then I got Animal Kingdom, and um…you know…here we are!" Stapleton says with a laugh. "It made the crack a lot easier!"
Frecheville and Stapleton are already accustomed to Hollywood. Tickled by their increasing profile, they try to outdo each other's Entourage moments. "I was having drinks with a bunch of new friends at the Chateau Marmont, and within 15 minutes we got a free acoustic gig from Grace Jones and life lessons from Lionel Richie," Frecheville says. "Oh, and Lindsay Lohan tried to kick us out." Not that they're going anywhere anytime soon. "I keep hearing about it in movie meetings—they just like the idea of the Australian man who can kick your ass and still be funny and likable," Stapleton says. "And cry on your shoulder," Freche­ville interjects. "It's all because we seem some­what exotic—yet we're not."
Grooming by Diana Schmidtke at the Wall Group