Listen Up, Rihanna: Act N°1 Is the Newest Award-Winning Fashion Label and It's Right Up Your Alley
Meet Act N°1's design duo Luca Lin and Galib Gassanoff.
---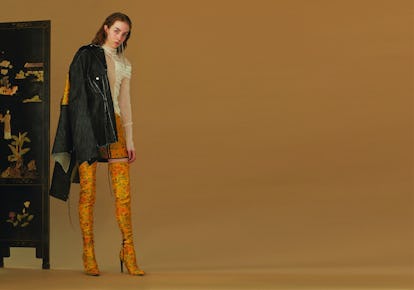 There are countless fashion competitions held every year around the world, but few have a reputation for discovering talent like Who Is On Next, held in Italy during the Altaroma Couture shows in July. Previous winners include Arthur Arbesser, MSGM's Massimo Giorgetti, Nicholas Kirkwood, Stella Jean and Marco de Vincenzo, who was also on this year's jury along with Valentino's Pierpaolo Piccioli.
This year's competition was tough, with young designers like Marco Rambaldi and Davide Grillo, who both worked with Dolce & Gabbana before launching their namesake brands, in the running, but Act N°1's design duo Luca Lin and Galib Gassanoff ultimately won this year's fashion competition.
Lin and Gassanoff's Resort 2018 ready-to-wear collection consisted of embroidered satin separates paired with thigh-high boots and oversized, jeweled safety pins suspended from the models' noses, which drew a few gasps from the audience. "They're one of our trademarks," says Gassanoff. "We've used them in all three of our collections. A bit heavy to wear for a long time, but not so bad for a short show."
The collection was inspired by their respective childhoods. Lin grew up in Italy's Reggio Emilia, but his parents are originally from China, while Gassanoff was raised in Georgia by Azerbaijani parents. "We grew up in different countries, but the fact that both of our childhoods were so similar united us and inspired us to launch our own label and put our story of multiculturalism into the brand identity," says Gassanoff.
For their collection, Lin and Gassanoff drew inspiration from some ancient Chinese folding screens found at Lin's parents' home and '90s post-soviet interiors and traditional Azerbaijani carpets from Gassanoff's side. The floral patterns are based on memories of Gassanoff's Georgian hometown, and Lin managed to slip in some Tang dynasty elements into the outerwear with Ruqun national costumes and Jīngjù theater details spicing up jeans and deconstructed tailoring in Chinese silk brocade and canvas.
"My parents moved to Italy during the 1980s and opened the first Chinese restaurant in Reggio Emilia, the city that we are based currently. They're obsessed with Chinese vintage furniture and objects," says Lin. "My home and the restaurant's interior are full of ethnic stuff, and that was really inspiring throughout my childhood."
But the designers also drew inspiration from late '90s grunge, the kind of raw, non-fashion street style they both experienced first hand when growing up. "I come from a little village where there were no fashionable people, lots of prints, exaggerated piercing and chains," says Gassanoff. "I'm not really into feminine fluidity. I want to make women look stronger."
Although Act N°1 has only been around for three seasons, the brand is already stocked in 20 stores and can be found on Farfetch and Luisa Via Roma. And, with this win, their stock will most certainly rise. The only question left is when will Rihanna take notice?
10 Up-and-Coming Fashion Designers to Watch from Rome
Edith Marcel's designers Gianluca Ferracin and Andrea Mastato looked to the color palette of Francis Bacon's swirling, distorted portraits for inspiration in their genderless, tailored collection. The end result included exaggerated volumes and silhouettes, artificially flattened trousers, and shirts with oversized cuffs in shades of black, bottle green and pumpkin.
Alexander Flagella, 31, of Greta Boldini imagined a woman "determined to conquer the world with her beauty" in his collection. His warrior femme fatales wore embroidered layers underneath a patchwork of mink, fox and Mongolian lamb mixed with mohair and wool.
Marianna Cimini's "Bamboo Theory" collection, which was inspired by Wong Kar-Wai heroines from "2046," was both romantic and complicated. The designer's long, elegant silhouettes were made out of rich textiles like silk velvet and playful bamboo prints.
Brognano's Nicola Brognano, the 26-year-old designer who won Who is on Next last summer, drew inspiration from his experience working on the couture collections for Giambattista Valli and Dolce & Gabbana. "This season I thought of 'Hot Couture,' a kind of fake couture, an unpretentious approach to high fashion," he explained of the collection, which included a red hot bustier dress with a tiered tulle skirt worn with a coordinating baseball cap.
Italian American Jezabelle Cormio, 26, launched Cormio with the mission of creating an evening-wear line that's "mystical, anarchic, and naively glamorous." The result: unexpected combinations of tailoring, draping, delicate fabrics and embellishment that looks like a wild child had her way with mama's finery. The young designer, who is based out of Italy's Veneto, is now sold at Opening Ceremony in L.A. and New York.
Vien Atelier's Vincenzo Palazzo took menswear classes, like the universal trench and plaid trousers, and reinterpreted them in supersized, beautifully tailored versions.
Sisters Lulu and Anna Poletti continue their family's shirt-making tradition with Melampo Milano, a new label that mixes embroidered florals with stripes, plaids, and tapestries inspired by surrealist painter Dino Valls.
Morphosis' Alessandra Cappielo experimented with velvet's range in her collection, by using it in almost every look, in a variet of colors, and mixed with transparent florals, tulle and ruffles. The designer's customers–romantically inclined clients like pianists Katia and Marielle Labeque and violinist Viktoria Mullova–will certainly be pleased.
Miahatami's Narguess Hatami left her native Iran to study and work in fashion in Italy for MSGM, and now has her own brand. Her new collection, "Oasis in the Desert," was inspired by Iran's Ghashghai and Bakhtiari tribes, and utilizes traditional techniques such as taspesty-style bouclé loop stitch knitwear, sculpted fringe and kilim carpet weaves.
Parden's Daniele Giorgio layered fabrics and colors to create an assymetrical maze that looked like a moving painting.
Watch: Butterflies of Paris: How Street Style Stars Do Paris Fashion Week