Actress Alison Sudol Bewitches in J.K. Rowling's "Fantastic Beasts"
The musician and once-reluctant actress is breaking out as the newest star in the next Harry Potter franchise.
---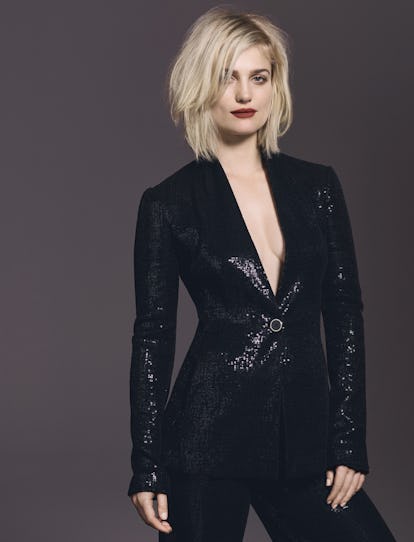 Photograph by Mark Segal, Styled by Simon Robins
The daughter of two actors and acting teachers, Alison Sudol grew up in Los Angeles with zero interest in following suit in her parents' footsteps. "Because I grew up around the reality and heartbreak of acting, I didn't want to have anything to do with it," she says. Instead, Sudol, now 31, pursued music, first under the name A Fine Frenzy, and then recording under her own, releasing her first pop album in 2007.
Four years ago, though, things changed. "I was in a difficult place with my record label and kind of disillusioned by the music industry," she recalls. "I was burned out and needing a different creative expression and something to get excited about. I thought, 'Okay, maybe I'll just see about acting. Plus, I got sick of obsessively watching movies and being jealous that I wasn't a part of them." With that, she threw her caution to the wind, and enrolled in acting classes.
It took only three auditions for Sudol to land a role in "Transparent," — playing a musician, naturally. Shortly after, she appeared in the big budget USA series "Dig." But it's her role in J.K. Rowling's much-anticipated "Fantastic Beasts and Where to Find Them," out November 18, that will bring her to a much larger audience.
Sudol will star alongside Eddie Redmayne, Katherine Waterston, and Dan Fogler as Queenie Goldstein, a mind-reading witch noted for her bombshell beauty and no shortage of girlish charm. Despite an enormous cast and crew, the production "felt very intimate, like our own little playground," she recalls. "David Yates is an incredible director because he would gather up the four of us and describe the scene, and the things that we weren't going to be able to see as far as the creatures… He would just bring us toward each other."
The film is part of J.K. Rowling's Wizarding World franchise, a new entertainment brand founded by the Harry Potter author and acquired by Warner Bros. It's meant to be the first in a series of five films that will depict different cultures, time periods, and political conflicts in various Wizarding societies — period Potter, more or less.
Fantastic Beasts is set in 1926, in New York. Queenie and her friends are tasked with tracking down Newt Scamander's (Redmayne) missing creatures, before war breaks out between the Wizarding world and that of the Muggles. "It's wizard, it's magic, it's creatures," says Sudol. "But there's a real humanity to it — and that's how it was working on it."
While filming Fantastic Beasts in London last year, she would make occasional trips down to Bristol, England to finish recording her fifth record. "I was able to take what I was learning on the film and the emotions I was experiencing, both as an actress and as a human being, back to the record. It was physically tiring, but creatively really incredible," Sudol says. "[Queenie is] an incredibly female character; there's a tremendous amount of softness to her and a certain amount of elegance and glamour that I really fell in love with. I do think that she seeped into the music, because it's a very feminine, seductive record — much more so than anything I've done before."
Though she's also currently working on a screenplay and a book as well, Sudol intends to keep acting. "I fell in love with it," she says, "despite my better judgement."