Actress Margaret Qualley Has the Best Porn Name
The Nice Guys star's mother, Andie Macdowell, might not be so pleased.
---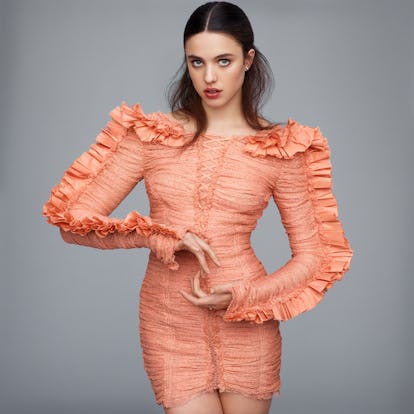 Photographer: Thomas Whiteside Stylist: Deborah Afshani
If you went by appearances alone, you might wager that Margaret Qualley—21 years old, lithe, with glamorous features reminiscent of starlets from the Golden Age of cinema—was a model or a dancer. And in fact, the actress was both, once upon a time. But she had never been mistaken for a porn star—until now. In The Nice Guys (out May 20), director Shane Black's romp through 1970s Los Angeles, costarring Ryan Gosling and Russell Crowe, Qualley plays a social activist who is kidnapped because of her resemblance to the adult-film actress Misty Mountains. "I never thought the phrase 'I look like this porn star' would come out of my mouth," Qualley admits.
The daughter of the actress and former model Andie Macdowell, Qualley has won fans as the angsty Jill Garvey in HBO's The Leftovers and had a tiny part in 2014's Palo Alto. But growing up, Qualley says, she never intended to follow her mother's career path. She trained with American Ballet Theatre until she suffered "an early-onset midlife crisis." The next thing she knew, she was modeling; but after she took an improv class, she never looked back. Despite her blue-chip Hollywood stock, Qualley is nothing like the jaded teen she plays on The Leftovers. "They say your porn name is the name of the street you grew up on plus the name of your first pet," she says. "Mine would be 9 Mile Buttons."
Watch W's most popular videos here: