Adam Driver Was Really, Really Hungry When He Lost 51 Pounds for Martin Scorcese's Silence
"How can you play persecuted 17th-century Jesuit priests, you know, like eating great meals?"
---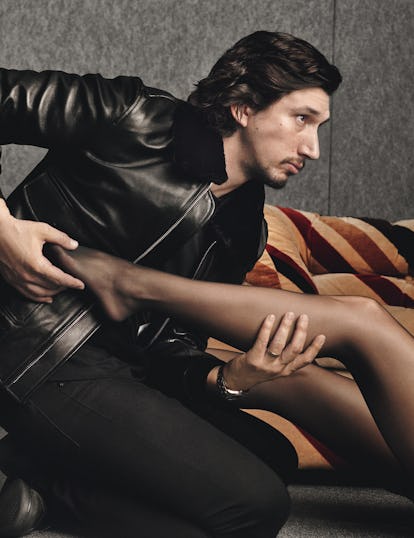 This week, Adam Driver will star in the sixth and final season of Girls, closing a chapter in his career. Since the show first aired in 2012, audiences have known Driver as the eccentric, volatile boyfriend, and then the ex-boyfriend, of Hannah Horvath (Lena Dunham). But in recent years, the Juilliard-educated former Marine has proved that he's full of surprises. In 2015, Driver played the villain Kylo Ren in Star Wars: The Force Awakens, and in 2016 he starred in both Jim Jarmusch's Paterson and Martin Scorsese's Silence. Here, Driver, who is one of the stars of W's Best Performances issue, opens up about these challenging roles, what it was like to work with directors he greatly admired, and more.
How did Jim Jarmusch approach you with Paterson? He reached out through my agents and asked me if I would meet with him to talk about this movie, and, of course, yes, I wanted to meet him. I didn't know anything about the movie, but I didn't really care. I kind of just read the script as a formality. I would've done anything that he [asked] – if it was like a commercial for Rolaids, I would've been interested in doing it, but it was about a poet and a bus driver, and I liked it.
Do you have a favorite Jim Jarmusch film, other than Paterson, of course? A favorite? That's hard to say. Maybe Down by Law, just 'cause I think that was probably the first movie I had seen of his, and it's just a great cast of people, but I mean, a lot of 'em have really unique things about them. I mean, Only Lovers Left Alive, the one right before Paterson, I thought was pretty fucking brilliant. Broken Flowers was really great. I mean, it's hard to pick one.
Paterson to me was extremely moving. Did you find yourself writing poetry? Did it find that it put you in a poetic state of mind? It did, yeah. I mean, I had a very elementary knowledge of poetry before I started. I know I liked e. e. cummings, like this poem, "Chicago," I really liked, and like I knew Alan Ginsberg's "Howl," but I didn't really know anything beyond that. I didn't know Ron Padgett's poems, who wrote the poems for the movie, but I thought it would be good to write poetry during it, but God, no one will ever see that. It was so, so bad. That was the first thing that I grabbed at the end of the day, at the end of the end of the shoot was the book of poetry that I'd been writing, 'cause I didn't want anyone to get their hands on it 'cause it would be embarrassing.
And how did Silence come about? Did they call you up and say, "We want you to like lose 40 pounds and go be a priest?" Yeah, yeah. I'm like, "Yeah, sure, that sounds like a good time." They, they wanted me to come to [Martin Scorsese's] house. That was the first thing, "Will you, you know, come over to Marty's house and talk about this?" I'm like, "Yeah, I'll do that. I'm not doing anything," and I didn't know if I had the job or not going in. I thought kind of maybe that's what it was, based on the conversation.
But you knew it had been a passion project and all those things? Yeah, I knew the history of it, but I didn't know like how seriously like this thing was, so we kind of sat and talked about the movie a little bit. I read the book, and I had read the script, obviously, prior to meeting him. We talked about that a little bit, and he talked about his movies, which was really great. You know, when he starts a sentence, like, "When we were shooting, you know, Raging Bull or, you know, After Hours, you know, or King of Comedy," you can't help but be, "Yeah, okay. Tell me, tell me everything." So we talked for a long time, and then at the end, he was like, "Yeah, so okay, do you wanna do this?" and I was like, "Uh, yeah, yeah." That was it. It was very, very uneventful. Actually, Thelma Schoonmaker was cutting Wolf of Wall Street in the next room at his house, and she came over, and it was like, I think, 10:00 at night at that point, and they were gonna work all night, and it was already like a month overdue, and he was like, "They think I'm gonna turn it in on Monday," and this was like Friday. He's like, "But I'm not."
And how long did it take before you started shooting? You know, I don't know. I think it was gonna start in like six months, and then after six months, they pushed for another six months. And he asked me in that meeting, "Would you be willing to lose weight for it?" and I was like, "Yeah." It seemed very important to the story, and it made sense.
Did you start thin, or do you get thinner as the movie goes on? Both, both. At the start of the movie, they've already been traveling. They have already been traveling for two years, from Lisbon, around Africa, to get to Macau. And then, at the start of the movie, they have one more leg of the trip, from Macau to Japan, and they're trying to convince their higher ups that since they had been traveling for two years, they'd been starving on a boat, and there's been disease, nothing to eat, a lot of manual labor, and people are dying, and, over the course of their journey, the Christians being persecuted in Japan increased. So by the time they got to Macau they weren't sending anybody into Japan, so they'd already been kind of starving, and then they convince him to let them go and look for their mentor, who is rumored to have apotheosized, to have renounced his faith.
And this is Liam Neeson? This is Liam Neeson. And, you know, they have to be in hiding and are starving even more and persecuted, obviously, and so lost more weight.
Was it tough? Yes. Yeah, it was. It was great in retrospect, and even at the time. It was like a physical thing that I can control, whereas obviously, in acting, you can't control anything, but you can control your physicality, and, you know, that's a thing you can focus on, because all the other elements are beyond your control. It was good in that sometimes you're so tired when you're doing scenes that you only have the energy to listen to what's happening. You can't put anything on top of it. You just feel grounded, and have no energy to spend kind of wasting time. You just have to listen.
It's only bad in that scenes wouldn't work, or we'd try to figure out how to adjust something, and you have no ideas, you know, 'cause you're so hungry. You're like, "Just, you know, I don't know. I don't, I don't have the words to –" and then you have like a scoop of peanut butter, and suddenly everything turns on. You're like, "I got this idea," you know? "Guns, we need guns," you know, but it's 17th century, so…
But there's something kind of amazing about that. The acting becomes different because of the hunger, no? Yeah. I would imagine it'd be more difficult to – how can you play persecuted 17th-century Jesuit priests, you know, like eating great meals? I mean, I'm sure you can. It's acting, I guess, but –
It's different. Yeah, but, you know, in nice trailers. Like, it kind of lends itself to the thing you're working. And also just to play priests, where, you know, there's like an archetypal image of priests as very mannered, maybe, and in control and thoughtful, and not so much kind of almost rugged pioneers. You don't normally associate that image, I think, with priests.
In the film, you guys looked pretty – Hungry.
Hungry, yeah. I mean, your bones were pretty jutty. You know, you have high cheekbones anyway, but it was like really, you were hollow. I was worried for you. It was, yeah, it was a tough time personally, I would say, just because, you know, you're across the world. You're looking at different stars, you know? There're seven different languages going on on set.
And you're hungry. And you're trying to communicate. I tried to do it on my own for the first two months, just lose it by myself, and that was not good, 'cause it's like all about chemicals and timing, you know? Really, like you're not thinking clearly, and so you're yelling at everyone 'cause you're so hungry. Then they hired a guy who put us on more of a regime where we could control hunger more. And then gaining it back, I had to do it in like a month, or even less than that 'cause we were starting the fifth season of Girls. I had to wear a bunch of thick sweaters, and would just go to the diner up the street from me and pound like pancakes, French toast, and waffles all in one sitting. I got to know everyone on the staff, for those two week. I would just go every day with my wife and pound food. But you're so tired, and like you're anemic, and you're like walking slow, but it's good. It's your job in a way, and when there's someone like Scorsese, who's leading it, and like you're surrounded by really great actors, and you feel like maybe the story can actually have an effect, what a f–king rare opportunity that is to be a part of something like that. I mean, who knows? Maybe no one would give a shit, but it's an opportunity to hopefully be a part of something, sowhy not try to do the best version of it in the short amount of time we have?
Adam Driver Is Anything But Adventurous on the Red Carpet
The GQ Men of the Year Party in 2012. Photo by Getty Images.
The 64th Primetime Emmy Awards in 2012. Photo by Getty Images.
HBO premiere of "Girls" Season 2 in 2013. Photo by Getty Images.
Whitney Art Party in 2013. Photo by Getty Images.
The 71st Venice Film Festival in 2014. Photo by Getty Images.
The 65th Annual Primetime Emmy Awards in 2013. Photo by Getty Images.
The 2013 Red Bull Theater Gala Benefit. Photo by Getty Images.
The 2013 Toronto International Film Festival. Photo by Getty Images.
The Headstrong Project "Words Of War" Benefit in 2014. Photo by Getty Images.
"This Is Where I Leave You" premiere at TCL Chinese Theatre in 2014. Photo by Getty Images.
Driver attends HBO's Official 2015 Emmy After Party at The Plaza at the Pacific Design Center on September 20, 2015 in Los Angeles, California. Photo by FilmMagic/Getty Images.

FilmMagic
Driver and his wifeJoanne Tucker attend the European Premiere of "Star Wars: The Force Awakens" in Leicester Square on December 16, 2015 in London, England.

Photo by Getty Images/WireImage

David M. Benett
Adam Driver and Joanne Tucker at the annual 69th Cannes Film Festival at Palais des Festivals on May 16, 2016 in Cannes, France.

Photo by FilmMagic/Getty Images

Danny Martindale
Driver attends the 'Paterson' premiere during the 2016 Toronto International Film Festival at Ryerson Theatre on September 12, 2016 in Toronto, Canada.

Photo by Getty Images/FilmMagic)

C Flanigan
Driver at the 26th Annual Gotham Independent Film Awards at Cipriani Wall Street on November 28, 2016 in New York City.

Photo by Getty Images

Michael Loccisano
Director Jim Jarmusch and actor Adam Driver at a "Paterson" screening on December 15, 2016 in New York City.

Photo by FilmMagic/Getty Images

Brent N. Clarke
Adam Driver attends The National Board of Review Gala on January 4, 2017 in New York City. Photo by Jimi Celeste/Patrick McMullan via Getty Images

Jimi Celeste