Adam McKay: Funny, with a Chance of Politics
Comedy king Adam McKay is not just in it for the laughs.
---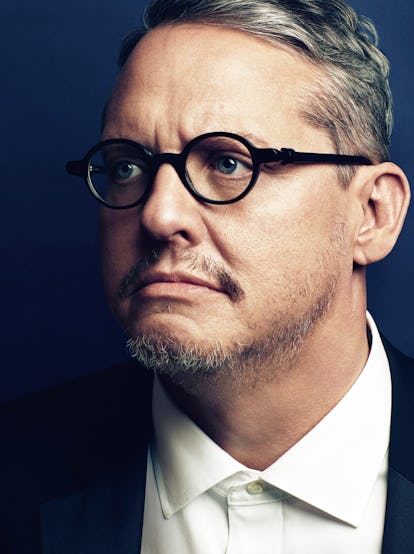 Photographer: Robert Maxwell
"Who the fuck wants to be taken seriously?" Adam McKay asked on a chilly day last fall. He was sprawled on the big, squishy tan sofa in his office in West Hollywood, home to the production company he started with Will Ferrell and Chris Henchy, and Funny or Die, the massively successful website the three cofounded. McKay, who is tall and broad and was dressed in jeans and a gray zip-up sweater, with a striped scarf knotted around his neck, has shifted, albeit briefly, from comedy to co-write and direct The Big Short, a blistering and surprisingly moving true-life drama about the collapse of the financial structure in America. Although there are amusing bits in the film, the humor is in the service of an impactful story supported by an all-star cast (Christian Bale, Brad Pitt, Ryan Gosling, Steve Carell) who play the mavericks who bet against the system and won.
"I had just finished Anchorman 2," McKay recalled. "And my agent asked me, 'If you could do anything, what would you do?' I said, Michael Lewis's The Big Short. I was obsessed with the book. I thought it was informational, specific, pulse-pounding, had great characters, and was heartbreaking. Most of all, the story was about now. But I assumed there was no way Paramount Pictures, which owned the rights to the book, would let me do it. It's very hard to jump genres, and I am a comedy guy. I knew they probably wouldn't take me seriously. But I also knew that it's so much fun not to be taken seriously, and then, when you are serious—and I was very serious about The Big Short—it's a surprise. Everyone likes to be surprised."
If the studio execs had been paying attention to McKay's blockbuster comedies—Anchorman: The Legend of Ron Burgundy and Anchorman 2: The Legend Continues ($210 million combined domestic gross), Talladega Nights: The Ballad of Ricky Bobby, Step Brothers ($100 million), and The Other Guys ($119 million)—they might not have been the least bit shocked by his interest in politics and the zeitgeist. In every one of those films, McKay has managed to sneak in transgressive commentaries on religion, sexuality, and prejudice. Take 2006's Talladega Nights, which is, ostensibly, the story of NASCAR driver Ricky Bobby (played by Ferrell), who, ideologically anyway, has quite a lot in common with George W. Bush. In the film, Bobby is challenged by Jean Girard, an openly gay Formula 1 driver played by Sacha Baron Cohen. Girard easily trounces Bobby on the track, and at the end they share a very long, romantic kiss to celebrate Bobby's return to glory. Talladega Nights went on to make $148 million, largely thanks to audiences in the Southern states, where gay rights were being vehemently challenged. "The day after Talladega came out," McKay recalled, "Michael Moore called me and said, 'You just made the most subversive movie in America, and nobody knows it.' "
That sly undercurrent is part of every McKay comedy: In 2008's Step Brothers, about two grown men who still live with their parents, McKay was addressing the infantilization of Americans. "In this country, we've turned everyone into children," he said. "Especially among men, it is not considered cool to be an adult anymore." In 2010's mismatched-cop comedy The Other Guys, the subplot is financial malfeasance. "Back then, I started doing research about the collapse of the economy," McKay remembered. "But the laughs in The Other Guys obscured my commentary. Things were so messed up, I wanted to say something without hiding. I suddenly realized that 80 percent of what I was interested in stemmed from economics. I started talking to Nobel Prize–winning economists like Paul Krugman. After I read The Big Short, I found the perfect way to show it all."
The Big Short follows a group of men who predicted the collapse of the subprime mortgage market. In Lewis's book, they are portrayed as brilliant, audacious investors who bucked the system. McKay's take is more melancholic: The film is thrilling, but, unlike the book, it is also sad. Fortunes were made, but the money was tainted.
Unexpectedly, Paramount liked McKay's approach to the The Big Short, and in 2014 the script he wrote was approved. "I told them my dream cast—Bale, Gosling, Pitt—and they said, 'Sure, but you're not going to get those guys.' And then everyone said yes." McKay smiled. Underestimated again. "Once I got the cast, the studio stopped seeing me as 'the comedy guy.' "
But if being the comedy guy means being perceived as a Hollywood outsider, then McKay relishes the title. Ever since his days as a writer for Saturday Night Live, where he was hired in 1995 when he was 27 (he is now 47), McKay has exhibited an anarchic streak. He grew up in Pennsylvania and began his career doing stand-up, then segued into improv. After attending Penn State and Temple University, he cofounded the Upright Citizens Brigade and later joined the Second City (comedy troupes in New York and Chicago, respectively), for which he wrote Piñata Full of Bees, a landmark revue that began with the cast onstage in gas masks, accusing the audience of crimes against humanity. "It was free-form, political, funny, and absurdist," McKay told me. "I used every muscle in that show."
At Saturday Night Live he became the head writer after only a year but soon became restless. "I wanted to leave, and my manager said, 'Make a ridiculous demand and see what they say.' " They said yes to everything, even McKay's wish to choose his own title. "I was called the Coordinator of Falconry," he said, still amused. "But my colleagues started to get annoyed, and it was time to do something else." In 2002, after moving to Los Angeles, McKay started writing scripts with Ferrell, who was still in the cast of SNL. Their first project, August Blowout, about a slumping car salesman in Orange County, California, didn't see the light of day but drew interest nevertheless. "I'm used to rejection," McKay said. "People weren't nice even about our next project, Anchorman."
Although The Big Short has gotten the kind of prestige-awards buzz and attention that comedies rarely receive, McKay is not finished making funny films, especially if he can use them to broadcast liberal politics. When a producer proposed to Funny or Die that Donald Trump perform in a clip for the site, McKay vetoed the idea. Instead, he co-wrote a short imagining the Mexican Donald Trump, Donaldo Trumpez, which received 15 million hits. Continuing with the immigration theme, McKay's next film will star Ferrell and John C. Reilly as misguided Americans who travel to Mexico to defend the border. "I want to see if we can do a laugh-out-loud comedy and still make a point," McKay said. "And if that doesn't happen, I would kill to make the definitive three-hour Dick Cheney movie. Either way, I want to tell stories about America. There's too much going on right now to not try and say something important."
Photos: Adam McKay: Funny, with a Chance of Politics
Adam McKay, in Los Angeles, November 2015.

Mckay wears Boss tuxedo jacket and shirt.

Photographer: Robert Maxwell
Ryan Gosling and McKay, on the set of The Big Short, 2015. Courtesy of Paramount Pictures.
Brad Pitt, in The Big Short. Courtesy of Paramount Pictures.
McKay, holding his daughter, Pearl, with Will Ferrell and John C. Reilly, on the set of Step Brothers, 2008. Mckay, Ferrell, and Reilly, and McKay and Ferrell: Courtesy of Adam McKay.
McKay with Baxter, on the set of Anchorman 2: The Legend Continues, 2013. Paramount Pictures/Courtesy of Everett Collection.
McKay and Ferrell, in Ireland, 1995. Courtesy of Adam McKay.
Styled by Michael Fisher. Grooming by Daniel Martinez for M2-squared Studio LA; digital technician: Drew Schwartz; photography assistants: Jimmy Fikes, Justin Officer; fashion assistant: Manuel Parra; Mckay wears Boss tuxedo jacket and shirt.