Adele's Bantu Knots Spark a Heated Debate
Accusations of cultural appropriation were swift—and mostly from Americans who'd never heard of Notting Hill Carnival, one of Britain's largest cultural events.
---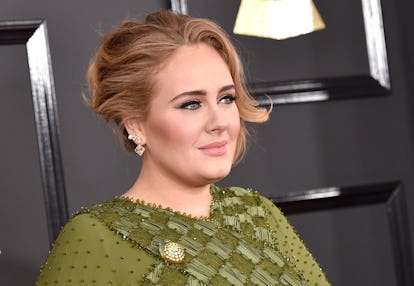 John Shearer/WireImage/Getty Images
Ever since Adele returned to Instagram back in May, each and every one of her posts has been something of an event. But there was another reason why many of Adele's followers claimed not to recognize the singer in her most recent Instagram. Sunday night's post found her wearing Bantu knots, along with a bikini top emblazoned with the Jamaican flag.
The ensuing dialogue continued throughout the entirety of Sunday night, making almost as much noise as the reactions to MTV's 2020 VMAs. To those behind the first wave of comments, this was cultural appropriation on the level of Zac Efron's dreadlocks; Bantu knots are a traditional African hairstyle, and Adele, of course, is white. "As Adele 'grew up around Black people' and has 'loads of Black friends' she would have to know what kind of attention that outfit and hairstyle would bring," the British comedian Ava Vidal tweeted. "Never mind appropriation, now we have to navigate around so much racist bullshit." Others simply joked that Adele was about to title her next album "Tirty Tree," or posted clips of Brad Pitt bungling Jamaican patois in the 1998 film Meet Joe Black.
But to others, those accusations glossed over a key detail: Adele's caption, in which she wished her "beloved London" a "happy what would be Notting Hill Carnival." The celebration of Afro-Caribbean culture, which members of the British West Indian community "founded to bring people together," may be new to Adele's American audience, but it's one of Britain's largest public events. "Poppycock!" Tottenham's Labour MP, David Lammy, tweeted of the criticism. "This humbug totally misses the spirit of Notting Hill Carnival and the tradition of 'dress up' or 'masquerade.' Adele was born and raised in Tottenham [and] she gets it more than most." The singer Alexandra Burke also came to Adele's defense: "As a Jamaican girl myself, my girl has grown up in Black culture," she said during the BBC's carnival tribute show the next morning. "People forget she's from Tottenham. She probably eats jerk chicken all the time like all of us."
Eighteen hours later, the most popular of the post's 88,500-plus comments are those coming to Adele's defense. (Aside, perhaps, from Lisa Rinna's remark that Adele "just broke that internet," which has been liked nearly 18,000 times.) Naomi Campbell, who is part Jamaican, commented two Jamaican flag and heart emojis, while the Jamaican singer Popcaan went with a heart and a Black raised fist. "You look right at home guurrrl," Zoe Saldana wrote. Adele has yet to respond, but her previous post seems to suggest she won't mind all the fuss. "I am solely responsible for my own joy, happiness and freedom!!," the singer wrote, promoting a self-help book titled Untamed: Stop Pleasing, Start Living.
Related: Adele Showed Off Her Mastery of Beyoncé's Choreography at a NYC Club