Adele Dressed Up as Her Hero Dolly Parton, Because Imitation Really Is the Most Sincere Form of Flattery
"I will always love youuuu."
---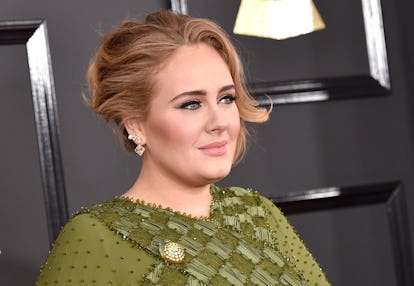 John Shearer/WireImage/Getty Images
Adele knows there can only be one way to pay tribute to the queen of country music. Recently the singer donned a large blonde wig, heavy blue eyeshadow and a pink suit to pay homage to her "hero" Dolly Parton, and shared the photographic evidence on Twitter. Of course, the look would not be complete without a large acoustic guitar.
"The effortless queen of song, Dolly Parton! We love you! We wish We could possess an ounce of your ability. You were the hero of our night! A hero of my life. I'll always love you x," Adele wrote in a caption for her photo posted to Twitter, of course referencing the the iconic 1974 single "I Will Always Love You" by Dolly Parton (which Whitney Houston later covered). Adele always knows when to pay tribute to her musical heroes (who could forget when she used her Grammys speech time to praise Beyoncé for Lemonade, or when she showed up to meet Céline Dion while wearing a Titanic sweatshirt with Dion's face on it), so this homage to Parton comes as no surprise.
While Parton has yet to respond to the photo Adele posted on twitter, the queen of country, who turned 72 on January 19, also apparently loves Adele right back. The "Jolene" singer once told Digital Spy that she "would love to do something" with Adele. "Did you notice I used her name in one of the songs on the album? On 'Head Over High Heels,' when I say 'I put on my tight dress, hair piled on my head, painting my lips red and my eyes like Adele!'" Parton said.
"I love how she looks, I love how she sings, I love how she is. I would love to do something with her. Maybe write a song? Maybe do a duet. So pass that word along!" she told the publication. Surely, no one would ever object to a collaboration from the two, and hopefully this dress-up homage is the catalyst for a powerful duet to come.
Related: Jane Fonda, Dolly Parton, and Lily Tomlin Had a 9 to 5 Reunion at the 2017 Emmy Awards