Adele Confirms She's Married to Longtime Partner Simon Konecki
In the chillest way possible.
---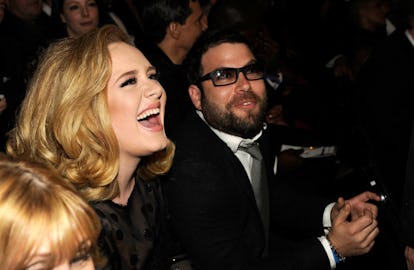 Kevin Mazur
Adele finally confirmed all our suspicions: She and her longtime partner Simon Konecki are, indeed, married. Earlier today at her Brisbane concert, the British artist finally put an end to the speculation that's been brewing ever since she was spotted wearing a gold ring on her finger at the beginning of this year.
Surprising the audience with an impromptu monologue about love right before she launched into her beloved 2012 ballad, "Someone Like You," Adele said, "As bad as a breakup can be and as bitter and horrible and messy it can be, that feeling when you first fall for someone is the best feeling on earth. I'm addicted to that feeling."
She then casually peppered her speech with the information that she is a married woman. "Obviously I can't go through with those feelings because I'm married now. I found my next person." In case there was any doubt, her casual marriage announcement pretty much confirms that Adele is one of the chillest people on earth—even about something as monumental as marrying her boyfriend and the father of her child, Angelo James Konecki.
Luckily, for everyone who didn't happen to be in the concert venue at the time of Adele's marriage reveal, there is a video, so you can relive the sweet moment over and over again.
However, this isn't the first time Adele has confirmed her marriage. At the Grammy Awards last month, Adele referred to her husband as exactly that. "Grammys, I appreciate it. The Academy, I love you. My manager, my husband, and my son—you're the only reason I do it," she said in the middle of her acceptance speech, though she later referred to him as her "partner" in the moments that followed. But now that Adele and Simon are official to the rest of the world, Adele can continue living out her marriage with the privacy she deserves—and, hopefully, plenty of celebrations.
Watch W's most popular videos here: