Adele Pays Tribute to Those Affected by London Terror Attack
She dedicated "Make You Feel My Love."
---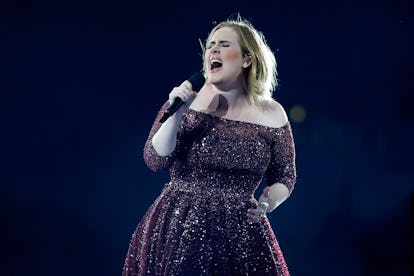 Phil Walter/Getty Images
While London recovered from a terror attack that claimed the lives of four victims and left more than 20 wounded on Wednesday, Adele was in Auckland, New Zealand, for a concert. The native Londoner was emotional about being so far from home in the wake of the incident, and she said as much in a moving tribute to those hurt during her concert.
Speaking to the Auckland crowd, Adele said: "Today there was a terror attack in my hometown of London. I'm literally on the other side of the world and I want them to see our lights and to hear us and to know that we're thinking of them. It's very strange, not being at home. All I want to do today is just be at home and be with my friends and family."
She then dedicated her rendition of 2008's "Make You Feel My Love" to those who were affected by the attack, continuing, "I mean, everyone [I know] is fine, but there are four people that aren't fine. So let's dedicate this to them tonight, and to my hometown, which is my soulmate. This is 'Make You Feel My Love.'"
Adele is the latest notable figure to offer words of support after the devastating attack in Westminster, London, when Khalid Masood drove his car into pedestrians on the Westminster Bridge before crashing into a fence close to the nearby Parliament building. The attack was reportedly the worst the city has faced in more than a decade.
This is not the first time Adele has had to perform soon after a devastating terror incident. Almost a year ago, Adele addressed the terror attack in Brussels during a show, telling her audience, "I'm hoping you've all come to be entertained by me. I'm here to entertain you, so we're all united, so that makes us much better than them f-ckers. You're on your own, you f-ckers."
Watch W's Most Popular Videos: