Dirk Schönberger: Kick Starter
The creative director of Adidas reimagines a classic pair of kicks.
---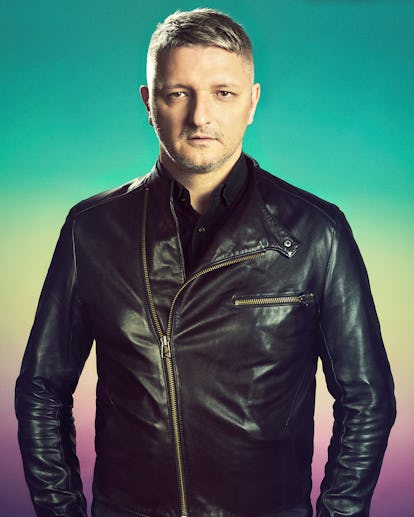 More than four decades since its launch in 1973, the Adidas Stan Smith, a nondescript tennis shoe named after the two-time Grand Slam singles champion, has become the footwear of choice for some stylish power players. Marc Jacobs has worn the sneakers religiously since his days as a pudgy, pony-tailed indie-nerd; Céline's Phoebe Philo sported a pair at her spring 2011 show; and this past February, Pharrell Williams made headlines in Stan Smiths hand-painted with the words i dunno.
"The shoe is a designer favorite," says Dirk Schönberger, the creative director of Adidas's sportswear divisions. "I don't think that is something you can influence." Nonetheless, Schönberger, a 48-year-old German native who designed an eponymous label for 10 years and was the creative director of the European brand Joop! before joining Adidas in 2010, has the seasoned instincts to know how to tickle the feet of industry tastemakers. This past January, he decided to re-release the Stan Smith, which had been off the shelves for some time, to the glee of editors and street-style icons. And Schönberger is keen to see not just how they wear Stan Smiths but also how they might reimagine them. For fall, he will continue his partnership with Raf Simons, who last year designed a series of Adidas running shoes in funky color combinations, and will introduce three new versions of the Stan Smith perforated with Simons's "R" logo. "Raf grew up with these shoes, just like I did," Schönberger says. "He has an emotional connection to the brand."
It's a feeling that has touched the soles of musicians as well. Williams, who recently signed with Adidas and has a collection with the brand in the works, wore Swarovski-crystal-encrusted Stan Smiths during a taping of Saturday Night Live in April. But it's Kanye West who is most likely to trigger a stampede. There is so much anticipation surrounding the upcoming release of a series of Stan Smiths reconfigured by the media-friendly rapper that street-wear blogs have already begun posting speculative renderings of what they might look like. Says Schönberger, "It's partnerships like these that keep me continuously learning."
Photos: Dirk Schönberger: Kick Starter
Dirk Schönberger. Photograph by Markus Jans.
Pharrell Williams's Stan Smiths with Swarovski crystals, customized by Gasoline Glamour.
Stan Smith at Wimbledon, 1972. Courtesy of Getty Images.
Raf Simons's new Stan Smiths design. Courtesy of Adidas.
Céline's Phoebe Philo in the iconic sneakers. Courtesy of Rineke Dijkstra.
Williams's "I Dunno" kicks. Courtesy of Getty Images.