Adonis Bosso Is One to Watch
The male model talks about diversity on the runway, his signature edge, and more backstage.
---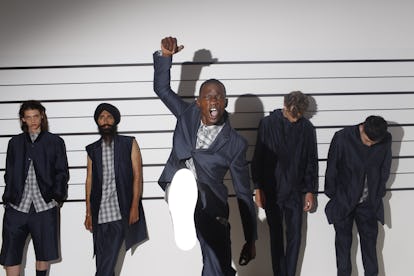 I first encountered 25-year-old model Adonis Bosso banging his head against the wall at Public School's Spring 2016 presentation, where he stood in a faux prison lineup next to Waris Ahluwalia. It was only day two of New York Fashion Week: Men's, but one could relate to Bosso's attitude in the jam-packed Skylight Clarkson Studios. While the other "celebrity" models like Nick Wooster were hardly batting a mascara-covered eyelash, Bosso quite literally stood out from the crowd by kicking, screaming, and pacing around his cell. His look, complete with a septum piercing and numerous tattoos, was absolutely arresting.
Off the runway, Bosso couldn't be more easygoing. Originally from the Ivory Coast, he moved with his family to Montreal at the age of three and when he's not working, he's volunteering at his family's safe haven center for kids with cognitive impairments. He started modeling in Canada when he was seventeen, but he found it difficult to get work there. "You don't get as many jobs because the jobs are often offered to the light-skinned boys or to Caucasian models in general," he explains. "It's a smaller market for me."
Bosso jokes that his "edgy" septum ring was what finally got him noticed in New York. But whatever the secret is, it's working—he was recently picked up by Dolce & Gabbana for the brand's men's wear show and campaign. "I thanked Domenico Dolce so much because he put three black guys in his show. It was one of the first times that Dolce & Gabbana has done that, and it was so important. Domenico was telling people that black people are attractive. Like Lupita Nyong'o says, she grew up not having people to look up to and think, 'This person is beautiful and they look like me.' I feel it's something that's really lacking in our community."
According to Bosso, New York and London are getting better about casting a diverse group of models, but Paris and other major fashion cities are still lacking. No matter where he is though, hair and makeup is always awkward. "When I get to makeup, they usually just say, 'Oh, you have really beautiful skin. Here's some lotion. Goodbye.' The reality is that makeup artists don't have my color. They came prepared for…the bigger ratio. Bobbi Brown has my color though. If I see a makeup artist with Bobbi Brown, I know we're good."
It's no secret that every season comes with its challenges for Bosso and other black models. "I definitely work less in the winter, too," he admits. "It's like people don't think black guys wear coats or something. We need a coat! We go out! We need winter wear as well! I look just as good in a coat as my friend over there."
Here's hoping we see a lot of Bosso at New York Fashion Week: Men's Fall/Winter 2016.
New York Fashion Week: Men's, Day 2
New York Fashion Week: Men's, Day 2
New York Fashion Week: Men's, Day 2
New York Fashion Week: Men's, Day 2
New York Fashion Week: Men's, Day 2
New York Fashion Week: Men's, Day 2
New York Fashion Week: Men's, Day 2
New York Fashion Week: Men's, Day 2
New York Fashion Week: Men's, Day 2
New York Fashion Week: Men's, Day 2
New York Fashion Week: Men's, Day 2
New York Fashion Week: Men's, Day 2
New York Fashion Week: Men's, Day 2