British It Girls Can't Get Enough of This Brazilian Swimwear Designer
Suki Waterhouse, Noor Fares, and Poppy Delevingne all have been wearing the colorful prints and cut-out silhouettes by swimwear designer Adriana Degreas.
---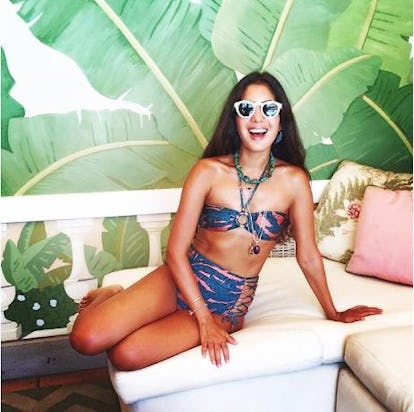 Brazilian designer Adriana Degreas grew up around fashion, thanks to her family. "My grandfather had a small fabric company and my grandmother owned an antique shop with a collection of designer pieces like Emilio Pucci, Courrèges, and Azzedine Alaia," she explained. Although she was fascinated by clothes at an early age, she never intended to become a swimwear designer, or launch her own brand. "I have a degree in Industrial Design," Degreas added.
Despite her unlikely path, the Brazilian swimwear designer has become a cult favorite of It girls around the globe, such as Suki Waterhouse, Noor Fares, and Poppy Delevingne, thanks to her bright patterns and seductive silhouettes. Here, Degreas opens up about what inspires her, her greatest success so far, and more.
What do you love about swimwear? Being Brazilian, I am attracted to a Brazilian, tropical chic aesthetic and a lifestyle around the pool mixed with glamorous parties during the day or night, once the sun sets. I wake up breathing fashion – lush imagery, colors, landscapes, and scenery. It doesn´t matter where I am but my travels inspire me in many ways to create innovative and beautiful designs for sophisticated, creative, strong women all over the world.
Why did you decide to go into designing swimsuits? I turned to swimwear world when I got married and started working with my husband and his family. He was in charge of a beachwear company with 68 years of traditions. I learned, with the practice, the best production techniques. I also created capsule collections for many brands as a beachwear designer. In 2001, I had a vision for a glamorous beach and resort wear lifestyle brand. With much experience, I decided I was ready to start a new project and build my own namesake line.
What were the first pieces you designed? They were very classic, timeless pieces, very elegant and chic. The color palette was comprised of nude tones, deep blues and black.
What styles are the most popular with your customer? Today the bikinis and swimsuits with cut-outs and tulle, the plunge neckline swimsuit and the fluid kaftans are our best sellers in addition to our classics, which remain in the line each season.
What swim trends are you seeing on women right now? The one-piece suit has increasingly taken the stage, along with solid monochrome swimsuits and iconic pieces that have a standout detail that often conveys personality and humor.
Has there been a favorite moment since you launched? The 2008 fashion show at Copacabana Palace in honor of Carmen Mayrink Veiga with Bebel Gilberto singing live and also the opening of our first international store in South Miami.
Is there a certain beach that inspires you? I'm really inspired by Trancoso in Bahia, Brazil, and Taormina in Sicilia.
Where are you excited to travel this summer? I would love to go to Italy, Capri or Sardinia.
Talk to me about your plans for the future. What's next?: Our next step is to expand the brand internationally with the launch of new stores in the US in the coming years. It's also important for us to place the brand with key retailers globally in addition to growing our existing partnerships. I would also love to show the collection at New York Fashion Week soon!
Watch all the episodes of "The Myth of Orpheus and Eurydice," a four-part film series by Gia Coppola, here. Produced for Gucci by W magazine.
Photos: British It Girls Can't Get Enough of This Brazilian Swimwear Designer
Courtesy of Adriana Degreas.
Courtesy of Adriana Degreas.
Courtesy of Adriana Degreas.