Angel Wings Are Up for Grabs
In case you missed them, here are the top style stories of the week.
---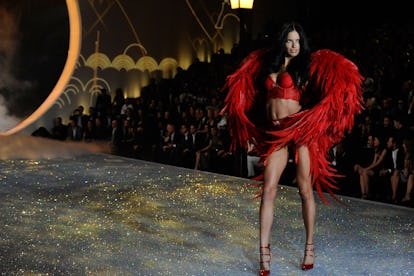 A.P.C. Released a collection of "douche" bags. Yes, you read that correctly.
Azagury-Partridge, Solange The jewelry designer is collaborating with Amazon on a more affordable collection. Get in line, online.
Cardin, Pierre The French fashion designer is opening a museum… dedicated to himself.
Dalbesio, Myla The size 10 Calvin Klein model caused controversy after appearing in a lingerie campaign. And not because she filled out the designs.
Jenner, Kendall Reportedly chose to walk for Chanel over Victoria's Secret. Or perhaps she just wanted a paid vacation in Austria.
Knowles, Solange The singer is apparently engaged and getting married this weekend. Has clearly been keeping a low profile since the elevator incident.
Lima, Adriana The supermodel may retire from Victoria's Secret. But who will fill her wings?
Margiela, Martin The elusive designer came out of hiding to say he approves of the brand's decision to hire John Galliano. And then went back into his cave.
Merdedes-Benz May step down as official sponsor of New York Fashion Week. May make the official Instagram handle easier to remember in the process.
Pattinson, Robert Got a new hipster haircut to prove he is cool enough for his new girlfriend FKA Twigs.
Rihanna Jumping on the flip phone trend without giving phucks.
Rucci, Ralph The designer announced plans to leave his eponymous fashion house. Au revoir.
Sevigny, Chloe Revealed that she loves anything with a monogram—especially LL Bean. Is not alone.
Swift, Taylor Dyed her hair brown, darkened her brows, and, thus, received Cara Delevingne's Insta-approval.
West, North Demonstrated she has skills in the Birkin-painting department, earned her keep in the form of a custom-designed, baby-sized Balmain blazer.
Walmart Turning Black Friday into Black Week. Now that doesn't sound right.
Westwood, Vivienne Advises those who can't afford to eat organic to eat less. Healthy.