Adult Content
Not a cash-strapped, trend-crazed kid anymore? Perfect. You're fashion's new best friend.
---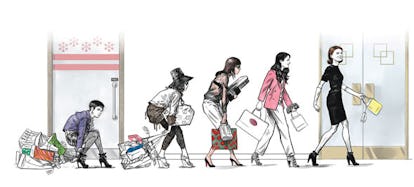 Call it a silver lining, pun intended. Thanks to the so-not-chipper economy, women d'un certain âge (read: the type who don't even remotely resemble a 16-year-old Slovakian supermodel) are about to get major props. Yes, in the perfect storm that is the fall fashion season, the gals who actually buy the bulk of designer clothes will be feeling the love. In these topsy-turvy financial times, it's all about having a Plan G, as in Grown-up.
Though fall shopping is just beginning in earnest, the machers behind the scenes—the designers, department store buyers and boutique owners—have been reading the tea leaves for the better part of a year. And their mission to lure, entice and get the ladies to part with their dough has led them to champion "investment dressing," a term not used this much since the last recession. Yes, there are bona fide trends; among them the NFL-caliber shoulder pads and the booty-high RuPaul boots that were all over the American and European catwalks. But on the runways this season, there was also plenty of acknowledgment that the woman who purchases the majority of designer clothes is also in the market for a boardroom-worthy suit, a perfect-if-pricey coat and a killer evening gown, along with those manageable trends that deliver of-the-moment chic sans silliness.
Of course there are several designers—Oscar de la Renta, Carolina Herrera, Donna Karan and Ralph Rucci spring to mind—who have long put forth a mature vision. Others, including Alber Elbaz at Lanvin and Michael Kors, hopped on the grown-up train before the recession. But this season, even more designers, from Miuccia Prada and Dries Van Noten to Marc Jacobs (who offered lots of tailoring in a madcap package), are embracing an inclusive stance.
According to market research firm NPD, the fact that women in the 35- to 54-year-old age bracket account for the lion's share of department store traffic isn't news. Yet many runways often skew young, and not solely because of teenage models. In addition to skirts that hit just south of the border, over-the-top styling has the potential to alienate a career-minded fortysomething. "The designer business and the media spend so much time paying homage to about 7 percent of the market," says NPD analyst Marshal Cohen. "That's where all the action goes. But did everyone decide they want to dress like a 25-year-old? I don't think so."
Sounding wise beyond his years, 27-year-old Jason Wu says he's known from the get-go who's most apt to be plunking down the plastic for his duds. "Here's a fact that very few people realize: The customer, and what appears to be the customer, is not always the same," he says. "I really think I'm lucky to have seen this early on. My customer is 20, 30, 40, 50—every single age group. And I want to have something for, and appeal to, everyone."
Likewise, Narciso Rodriguez, now in his 40s, has always attempted to span the client age spectrum. And he considers it a huge compliment when retailers like Shelly Musselman, co-owner of Forty Five Ten in Dallas, cite his ability to lure both mothers and daughters with his streamlined, just-snug-enough silhouettes. "It's not a happy accident," Rodriguez says. "I've never wanted to just dress the Upper East Side woman or the downtown girl."
But as Behnaz Sarafpour points out, price naturally puts designer clothes out of reach for most youthful fashion lovers. "Generally you don't have 18-year-olds who can afford to buy dresses that are over a thousand dollars," she says. "It's not something a younger woman typically has the budget for. Therefore, our clientele ends up being, for the most part, women who are in their 30s through 60s."
Though she's less well known, designer Araks Yeramyan got an early education in tending to the needs of the 40-plus crowd. In high school the clothes-besotted teen started styling her mother; by the time she graduated from Parsons The New School for Design, she was counseling an entire posse of career women. "I noticed that a lot of them weren't buying for the brand but for how they felt," Yeramyan recalls. "If they felt the least bit uncomfortable, I'd see their reaction in the dressing room mirror. So today I design to have women feel good about themselves."
Of course, not every fashion-fond adult woman is as concerned with modesty. If it's a hot ticket, she's in it, regardless of the raised eyebrows in her midst. How else to explain all the microscopic sequined Balmains and leave-nothing-to-the-imagination Alexander Wang leggings trotting around town? Or worse, junior-y outfits that aren't even chic. Still, there's a vast middle ground between ultraclassic and The Real Housewives of Orange County. And it's precisely this sweet spot—this mix of luxed-up workhorse pieces and trendier fare­—that retailers are trying to hit. "Fashion is supposed to be fun, and you just might want a crystal-studded vest from Givenchy," says Sarah Easley, co-owner of megaboutique Kirna Zabête, in New York's SoHo neighborhood. "So we always like to have that kind of buy-now, wear-now 'candy,' because you don't just shop with your brain and your wallet." Still, Easley notes, her over-30 customers "are going to just maybe ice and sprinkle the cake with pieces like that." And in stocking her shelves, she's taking cues from her own life. "When I opened the store with Beth [Buccini], I was 27. Now I'm 37," she says. "So we still know how to buy for those girls. But now we have kids to drop off at school every day, so we also know how to buy for the grown-ups."
She isn't on drop-off duty, but Donna Karan is all about building a wardrobe that serves a 24-7 lifestyle—one that's über high-powered. "As a woman, I certainly have to address my own needs," she says. "I am not a size two, and I have a complicated life stretching from the boardroom to dinner to traveling. When I started Donna Karan, it was for me and my friends, and I thought it would be a niche business. But I felt [for] that very specific woman—that executive woman who had a sensuality to her but was constantly on the move. What did she need in her wardrobe, what did she need to simplify her life?"
What Karan and her friends don't need are clothes that make them feel self-conscious. "I think one of the biggest problems we face today [in fashion] is skirt length," she says. "That's the one thing women look at and think, That's great for a young girl. You know, my daughter, God bless her, can wear anything. But feeling sexy while still feeling appropriate is really important."
Age appropriateness also looms large in the minds of retailer Jeffrey Kalinsky's superfashionable older customers. "Right off the top of my head, I can think of at least three who are over 70," he says. "But they all love fashion, and they don't wear matronly clothes. But they also don't want to feel like they're trying to dress young. And they don't. They're all chic, they can wear fashion, and they don't look silly."
Certainly, the yen to dress in a hyperpolished, unsilly way isn't completely age specific. Just ask Carolina Herrera, both a purveyor and the utter embodiment of classic chic. "There's no such thing as an 'old' dress," she says. "You can give a very 'old' dress to a very young girl and she makes it her age. It all depends on who's wearing it."
Oscar de la Renta agrees. "I have customers from age 20 up to I don't know what," he says. "When I'm designing clothes, I'm not thinking about age. I'm thinking about the women who have the ability to buy the clothes." And he wants to dispel, once and for all, the notion that grown-up clothes are the sole province of "ladies who lunch," a label he detests. To persist in using it, he says, "is sort of like living in a cocoon. Today there's no such thing as ladies who lunch. I sell to girls who are 35 years old and are billionaires because of their own abilities. They're professionals."
Though he finds the discussion of age "a total bore," de la Renta concedes that there's something to be said for putting a little thought into the matter once the years start to pile up: "Obviously, after a certain age, you have to be careful not to wear clothes that are too revealing." Particularly fraught with danger, notes de la Renta, are ensembles that showcase jiggle-prone upper arms. "As my first wife used to say," he chuckles, "'After 40, never wave goodbye.'" Try telling that to a certain superfit First Fortysomething.