Model Adut Akech Shares the Most Prized Possession in Her Closet
In an interview for the 2020 Originals Portfolio, the South Sudanese model opens up about her teenage style and her first major fashion purchase.
Photographs by Rosie Marks
---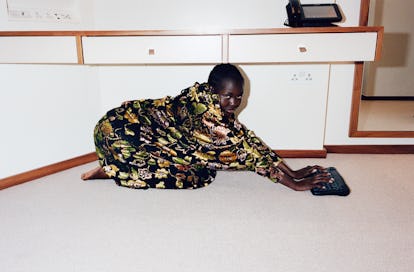 For our annual "The Originals" portfolio, we asked creatives—pioneers in the fields of art, design, fashion, comedy, activism and more—to share their insights on staying true to themselves and pushing the creative envelope in a chaotic year. Read all the Q+As from this year's group here.
You were born in South Sudan, raised in a refugee camp in Kenya, and then moved to Australia at age 7, where you walked in your first fashion show, a local affair organized by your aunt. Not long after, you broke onto the scene after walking in Saint Laurent's summer '17 show. Now, you've been on countless magazine covers and appeared as the face of Valentino, Givenchy, Fendi, and many more. You've said before that you discovered your love for fashion when you moved to Australia.
I got exposed to more clothes, makeup, beauty—things I didn't have access to before, when I was in a camp. That's when my love for fashion came about.
What was your style like as a teenager?
I was a little more girly when I was a teenager: skirts, dresses, bodycon-type of clothing, skinny jeans, and typical crop tops. All of that. As I got older, I became more confident in what I'm comfortable in. Now I just wear baggy clothes.
What was your first major fashion purchase?
I bought my mum a designer bag for her birthday after I left my first Fashion Week in Paris.
What's the most prized possession in your closet?
I treasure the bags I've got from designers I've worked with. I remember my very, very first Saint Laurent bag that I ever got after I walked their show. I still have that. I've been given a Chanel bag that I liked, and a McQueen. I think I have a bag from every single brand I actually like and use and have in my closet. Other-wise, it's clothing I got from my family. My mum bought me this white fur coat from an Australian brand last year, and I'm obsessed with it.
Who was the first person who made you realize you could break the rules?
My older sisters. They'd do something that was naughty, and then I'd do it. Because I was like, If they can do it, why can't I?
Related: For Valentino Muse Adut Akech, the Best Makeup Is No Makeup