Five Minutes with Aerin Lauder
The beauty scion on her morning routine, fragrances and Crème de la Mer.
---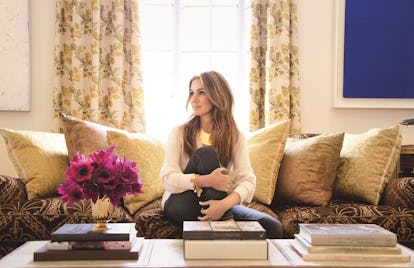 The name behind the eponymous beauty and lifestyle line mourns the loss of Jo Malone Tuberose and wishes she had more time for Crème de la Mer.
What's your first beauty memory? My earliest beauty memories all involve scent. Growing up surrounded by fragrance, no matter where I was, there were always things to test, try and play with. One of my first memories is getting into the car with my grandmother. She was wearing Beautiful and it just filled the car.
What was your worst beauty blunder? Dark lipstick has never been right on me but I am sure I wore it a few times in the 90s.
What beauty products are currently in your purse? AERIN Rose Lip Conditioner and Bronzer – it is the quickest way to look fresh and sun kissed.
What's your 5-minute morning beauty routine? You don't need dozens of products or a complicated, time-consuming routine to look polished. Like most women, I only have a limited amount of time to devote to getting ready but I also want to look my best. I keep my beauty simple with a few essentials: brown eyeliner, bronzer, lip gloss.
If you had an extra 10-15 minutes in your routine, how would you spend it? I would do a Crème de la Mer mask for 10 minutes to revitalize my skin…I may also throw in a few push-ups since I rarely have time to work out.
Which discontinued product or shade do you mourn? Jo Malone Tuberose fragrance. I wore it all the time.
What's your beauty peeve? Wearing too much makeup. It tends to make people look older than their age.
What are you currently obsessed with? I am always obsessed with candy and I'm loving the giftable creations at Sugarfina. I also love the holiday season, so I've been thinking a lot about gift giving and entertaining.