After "Beginners," Mike Mills Returns with the Exceptional "20th Century Women"
For the filmmaker, art is autobiography. His new film, 20th Century Women, a follow-up to the acclaimed Christopher Plummer film, is no exception, and just like its predecessor, it features a remarkable leading performance, this time by Annette Bening.
---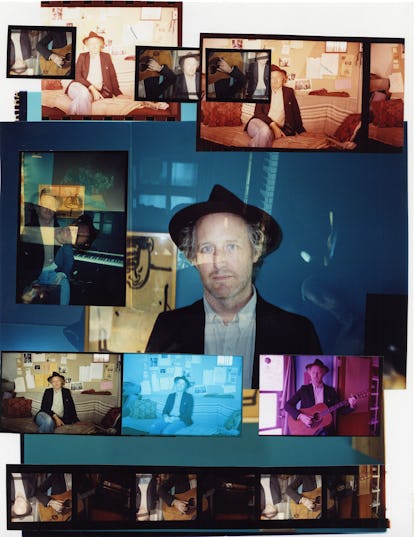 Photo collage by NICK haymes
The first film that made a big impression on Mike Mills, 50, the writer and director of 20th Century Women (in theaters December 21) was 8½. Like that Federico Fellini masterpiece, 20th Century Women, which is set in 1979 in Mills's hometown of Montecito, California, is an autobiographical ode to his late mother and the other women who have shaped his life.
"I've always had a hard time investing in fiction," Mills told me on a very sunny day in Los Angeles, where he lives with his wife, the artist-director-writer Miranda July, 42, and their 4-year-old son, Hopper. "8½ spoke to me because it was clearly based on Fellini's life. All the people in my films are written from my memories. Somehow that makes me feel like I'm doing something meaningful."
Mills, with his shaggy, sun-streaked hair and Windex-blue eyes, looks more like a surfer (or a skateboarder, which he once was) than a director. Although he always wears a suit when he's on set, the day we met he was dressed in jeans and an untucked tan button-down shirt. When he came to the door of his multilevel house in Silver Lake, he was holding Hopper in his arms; it was hard to connect this idyllic image with the emotional tension in his films.
In Mills's world, as depicted in both 20th Century Women and his 2011 film, Beginners, which is about his father's rebirth as a gay man at age 75 (Christopher Plummer won an Oscar and every other possible award for his performance), there is an undercurrent of profound mystery. He seems to always be saying that no matter how close we are to one another, we remain unknowable.
"I speak about my parents like I understood them very well, but in lots of ways it's impossible to get them right. That's part of the reason I made these movies," Mills said as he settled into a Thonet chair, a relic from his childhood, in the garage study where he wrote both films. The walls were covered with other artifacts of Mills's past, all guaranteed to trigger emotion, inspiration, or both. Photos of his mom, Jan, who wore her hair very short and had a bohemian sense of style, hung next to drawings of Hopper as an infant, next to one of Zoe, Mills's late beloved dog, next to a poster that Mills created when he was working as a graphic designer in New York. There were books everywhere, mostly about film or art, and some cherished objects, many of which belonged to his parents and have found their way into his films.
"I am wearing Mike's mother's silver bracelets in the movie," said Annette Bening, who is fascinating as Dorothea, the inscrutable matriarch of 20th Century Women. "The woman I play is both his mother and a character who is not his mother. That contradiction in her was the knife edge we were walking. But it did make it easier to get into the character when I knew that Mike had put his parents' bedspread on my character's bed and I was using their dishes and walking on their carpets. He wanted that beautiful, melancholic mood, and the real objects on set took us there instantly."
Mills pointed to a loose-leaf notebook that contained the script. On the cover was a photo of mother and son, taken when Mike was a small child, on the ladder of a playground slide. "I was around 4 when we moved to Montecito," Mills said. His father was the director of the Santa Barbara Museum of Art and his mother worked as a draftsperson. "She wanted to be an architect. She always told me, 'I don't want to do women's work.' Her real dream was to be a pilot. And she loved Humphrey Bogart. In many ways, my mom and I are like Rick and Ilsa in Casablanca—we don't get together in the end, but we really love each other."
The intensity of this observation is typical of Mills: He has no shyness when it comes to mining his life for public consumption. In fact, from his days as a student at the Cooper Union in New York in the '80s, he has focused on art born out of reality. Although that was the era of super-successful neo-Expressionist painters like Eric Fischl and Julian Schnabel, and the art world was booming, Mills was more interested in design.
He was particularly drawn to the public art of Gran Fury and the AIDS Coalition to Unleash Power (ACT UP) movement—work that inspired action and awareness. "Back then, my friends were all assistants to artists—doing jobs like breaking Mr. Schnabel's plates," Mills recalled as he drained a cup of coffee. "But, being from California and skateboard culture, which was also tied to hardcore punk, I didn't want to be around that moneyed scene. Paintings felt like knickknacks of the rich, while design felt like it belonged to the people. To me, the public sphere was the treasured ground."
Even then, his output was largely personal. Record covers he designed for bands like Sonic Youth and the Beastie Boys evoked the renegade spirit of his upbringing. He fell in with other ex-skater artists like Harmony Korine, Ed Templeton, and Spike Jonze, who all found a home at Aaron Rose's Alleged Gallery, on the Lower East Side. In the '90s, there was no cooler place to be. The Alleged alumni, who were immortalized in the exhibition "Beautiful Losers"—and in the accompanying film—were artists as hyphenates: Mills and his friends traversed the worlds of design, fashion, music, film, and even sports. "I did all the X-Girl fashion stuff," Mills continued, referring to the clothing line by Sonic Youth's Kim Gordon and her partner Daisy von Furth. "That involved designing a logo, T-shirts, and posters. I tried to create the same sense of surprise and wrongness that I first experienced in the punk-skating world, but in this new realm."
For Mills, design was a novel form of autobiography. Two of the X-Girl posters, for example, were based on images from Michelangelo Antonioni's 1966 Blow-Up and the 1967 Swedish drama I Am Curious (Yellow), films that had been vital to him growing up. Even as he massaged and distorted the images, very personal, psychological reference points would invariably seep through.
It was around 1995 that Mills started making short films, mostly videos for indie or rap bands, or documentaries like Paperboys, for the producer Andy Spade. Music was a natural fit for him—a song is the quickest delivery system for memory and emotion, time and place. Through Jonze, who was already a star on the music-video scene, he joined Satellite Films and had instant success, creating the visual identity (videos, record covers, posters) for the French electronica duo Air. That was also around the time Mills moved back to Los Angeles. "All my stories were here," Mills said. "New York wasn't my setting."
In 1999, three months after Mills arrived in L.A., his mother died. "She had a baseball-size tumor in her head. The doctors didn't know how she was still walking," he said, showing off a large wooden rabbit that she had carved (it has a cameo in the film). "Everything changed after that."
Next, Mills's father, Paul, admitted to his son and two daughters that he was gay. "My dad said, 'She knew, and when we got married, I turned in my gay badge and she turned in her Jewish badge, and we joined America.' They made an agreement, and they stuck to it. There was love and respect there, but also self-­sacrifice. When my mom died and my dad came out, it was like, 'Who's this person?' When all the tamping-down energy was released, he flourished in eight different directions. Not just as a gay man but also as an emotional man. Suddenly, all the lights were on."
A few years later, when his father was dying from cancer, Mills started interviewing him. Those conversations became the basis for Beginners. "I loved that film," Bening recalled. "When I read the script for 20th Century Women, my head exploded. I thought, 'I know these people.'"
Twentieth Century Women is not as accessible as Beginners, which wove a few different love stories into the essentially tragic recounting of his father's death and featured an adorable Jack Russell terrier. Dorothea, as played by Bening, is loving and extremely interesting but pricklier than Mills's father, who is portrayed as garrulous and fun-loving. "My mom is a much harder ghost to dance with than my dad," Mills said. "My mother, as a ghost, was resistant to the project. Finally, I had to say, 'F**k it, Mom—I'm making this movie.' I think she would have liked that attitude."
It took Mills more than three years to construct the script—an emotional story about an unemotional woman. He shot some of it in Montecito, close to where he grew up. The town is now quite posh, and he found himself trying to convince his young crew that, in the '70s, it was actually sleepy and unmanicured. "I had to lecture them on middle-class humility and well-worn integrity," Mills said, laughing. "I had to tell them it was odd and grown-over in Montecito then. I realized that my mother would have liked that. She thought weird was good, and she always believed in the underdog."
Mills paused.
"I miss her. Now that both movies are done, it's like my parents are really dead. When I heard the sound of her bracelets on Annette's wrists, it was a Proustian hit for me. During the filmmaking, she was alive again."
From Miranda July to the Beastie Boys, a Look Back at Mike Mills' Work
Mike Mills, at home in Los Angeles.

Photo collage by NICK haymes
A still from 20th Century Women, featuring Annette Bening, Elle Fanning, and Greta Gerwig (from left).

Gunther Campine/Courtesy of a24
A 1995 Beastie Boys album cover designed by Mills.

Courtesy of Capitol Records
A still from 2011's Beginners, featuring Christopher Plummer and Ewan McGregor (from left).

Courtesy of Focus Features
The Virgin Suicides soundtrack, 2000, cover designed by Mills.

Courtesy of Virgin Records
Cover of Sonic Youth's Washing Machine, 1995, also designed 
by Mills.

Courtesy of DGC
A still from the video for Blonde Redhead's "Top Ranking," 2007, directed by Mills and featuring Miranda July.

Courtesy of 4AD
A still from the video for Blonde Redhead's "Top Ranking," 2007, directed by Mills and featuring Miranda July.

Courtesy of 4AD
A still from the video for Blonde Redhead's "Top Ranking," 2007, directed by Mills and featuring Miranda July.

Courtesy of 4AD
Dorothea Lange's Mother's Day, While We Were Living at Virginia St., 1931, which belonged to Mills's parents, figures in both Beginners and 20th Century Women (Mills named the mother character Dorothea).

The Dorothea Lange Collection, Oakland museum of california/Gift of Paul S. Taylor
From Miranda July to the Beastie Boys, a Look Back at Mike Mills' Work
Watch W's most popular videos here: