Strange Love
Maison of macaroons, Ladurée, created a limited-edition box of their confections with designer Reed Krakoff to fête Fashion Week.
---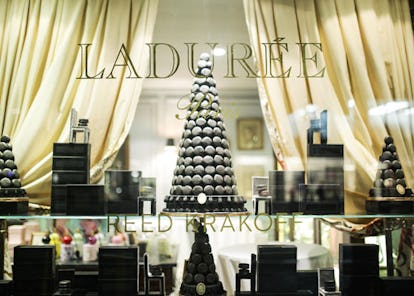 What: To fête Fashion Week, Ladurée created a limited-edition box of macarons that cleverly reflects Krakoff's minimalist aesthetic inside and out. A departure from Ladurée's signature pastels, the dark chocolate macarons boast a custom matte-black finish and come in a sleek, black box.
When: February 11
Where: Ladurée Madison Avenue.Â
Why: "I love Reed's creativity and his spirit, and it was very natural to work together and to celebrate New York Fashion Week," explained Holder. "The idea was really to have something special for New York; it is the first time we have done [a project] like this in just one city." Ladurée has without a doubt become a NYFW fixture; in addition to teaming up with Krakoff, the brand opened a pop-up store in Soho, a stand in Lincoln Center's VIP lounge, and is set to reveal another sweet collaboration backstage at Proenza Schouler.
Photo: Billy Farrell Agency