Meet the 17-Year-Old Designer Who Had Everyone Buzzing at Paris Fashion Week
Pierre Kaczmarek of Afterhomework(Paris) is only a teenager–but deserves to be taken seriously by the fashion crowd.
---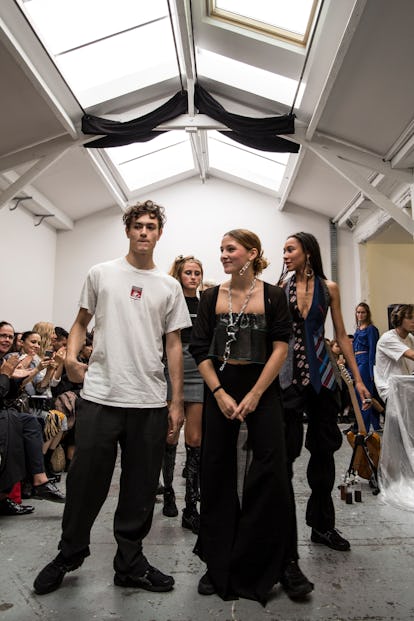 At age 15, Parisian high school student Pierre Kaczmarek launched a collection of t-shirts under the name Afterhomework(Paris). It was a hobby at the time–but two years later, he and his girlfriend, the 18-year-old stylist Elena Mottola, are some of the most anticipated young designers at Paris Fashion Week, thanks to their radical take on traditional workwear, genderless silhouettes, and fine tailoring skills.
For the brand's Spring 2017 collection, Kaczmarek's second serious effort, the duo recruited friends such as Suzanne Lindon, the daughter of French actors Vincent Lindon and Sandrine Kimberlain, and Marin Baud, a French literature student who is best known as the musician MMX Delta, to create the original electro music for the show, and other friends to be the models. It was untraditional to say the least, but it was also interesting. Here, Kaczmarek reflects on the experience.
Parisian Youth Culture Is On Display at the Promising Afterhomework(Paris) Spring 2017 Show at Paris Fashion Week
What inspired this collection? Louis Ferdinand Céline, when he said that to tell a story you have to have lived through it. To invent would be a lie.
Your collection androgynous and unisex, what do you think traditional gender roles mean today in fashion? I don't even think about gender anymore. A guy can wear a skirt, or a pair of pants, it's all the same thing.
Last season, your collection was entirely black and white. This season, you use the blue canvas French workmen wear. This is the first time I've used color. I love the artist Pierre Soulages, who paints almost exclusively in black, so I use a lot of black. But this time I thought of Yves Klein and his blue, which is the same color as French workwear. There's been so much social conflict in France, it seems natural to put it out there.
Where do you get your materials? The blue canvas comes from Renault, the French car manufacturer. There's a wild market under the freeway that circles Paris and since Renault is closing so many factories here, lots of its castoff materials are sold there. The shiny black sacking is from agriculture. It's a geotextile farmers lay out on the ground to capture the sun. Over the summer I took a lot of trains and I kept seeing that stuff when I looked out the window. There's a lot of conflicts with French farmers now.
There was a girl in the show with sneakers attached to her toes like a double shoe. Oh, that's because while I was doing the collection a lot of people pissed me off. They were stepping on my toes so I made a shoe about that. And I also used Asics. There's a French rapper I like called Jul, and he talks about Asics all the time because when you're selling drugs and the police show up, they're the fastest shoes.
And there's one great backless top made entirely of neckties. That's because one night coming home late after a party I met a homeless guy and he told me about his life. He liked the ties President François Hollande wore during the last election and since then he's been collecting them. In Berlin I found a huge stock of vintage neckties and I thought of him.
What are you doing about production? This season, we found a great atelier in Paris. We're going to choose six or seven of our favorite pieces from this collection and produce them to sell in an installation, hopefully here in Paris.
What are you thinking about right now? I've tried to present the oppression that effects young people now. That's why shapes are closer to the body, tight and attached. I'm at a distance from fashion and that makes a difference in the clothes. This is a distillation of everything I've been living through over the past six months. Every detail has meaning.