Agent Provocateur Is Empowering Women with Sexy Lingerie—And Now, Ready-to-Wear
British lingerie brand Agent Provocateur moves beyond the bedroom with new offerings like jumpsuits, pajamas and slip dresses, thanks to creative director Sarah Shotton.
---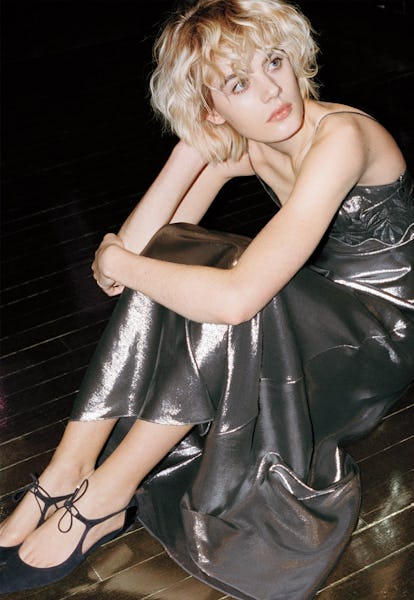 Photograph by Robert Nethery, Styled by Catherine Newell-Hanson
Agent Provocateur came onto the scene in 1994 like a cat in heat. Founded by Joe Corré, the dapper son of the designer Vivienne ­Westwood, and his gorgeous then-wife Serena Rees, the British lingerie brand flaunted a retro femme-fatale flair that screamed kinky sex. (Think sheer bullet bras and crystal-studded handcuffs.) "It was very cult and small and exciting," recalls Sarah Shotton, who began her career there in the late '90s, serving as Corré and Rees's girl Friday. "Window displays, design projects, selling underwear—I was doing literally everything." A buxom redhead who had been fashioning her own lingerie from vintage corsets, the Central Saint Martins grad fell madly for Agent Provocateur when she discovered it offered a bra that not only fit perfectly but also made her feel—for the first time in her life—good about her figure.
Now, as the brand's creative director—a position she's held since 2010, three years after Corré and Rees split up and sold the company to a private-equity firm—Shotton has made it her mission to perpetuate that sense of self-confidence. "Today, Agent Provocateur is more about empowering women," says the 41-year-old mother of two. "We're giving them pieces that work with all aspects of their life—not just Ms. Whiplash in the bedroom." She's expanded the collection to include offerings like a halter-neck crop top ("It's sporty yet delicate and pretty," she says of the best-seller). And, noticing how women were wearing the brand's bodysuits and kimonos out at night, she has introduced ready-to-wear, which for spring includes lamé jumpsuits, lacy pajamas, and loads of slip dresses. Not surprisingly, she has reworked the packaging—softening the Agent Provocateur candy pink to a more sophisticated shade—and is gradually revamping all 126 stores to create a warmer, more elegant environment. "I design for women, not men. But the men will like it anyway!"
You Don't Have to Be a Victoria's Secret Angel to Appreciate this Lingerie
Au naturel Naomi is our favorite Naomi. Naomi Campbell in "Pillow Tweets," W Magazine September 2014.

Photo by Mert Alas & Marcus Piggott, styled by Edward Enninful.
Lazy winter days are only made better by a chic slip dress. Juno Temple in "Show & Tell," W Magazine August 2016.

Photo by Mona Kuhn. Styled by Patrick Mackie.
Don't you wish you had a look so good, it inspired a faux lingerie ad? Karen Elson in "Fabulous Fakes," W Magazine November 2011.

Photo by Steven Meisel, styled by Edward Enninful.
Don't try this at home. Ruth Bell in "Dressed to the 90s," W Magazine March 2016.

Photo by Mario Sorrenti, styled by Melanie Ward.
It's agreed: Silk corsets are the look to aspire to. Scarlett Johansson in "Nobody's Baby," W Magazine March 2015.

Photo by Mert Alas and Marcus Piggot, styled by Edward Enninful.
Model Guinevere Van Seenus only packs the essentials. Guinevere Van Seenus in "Come As You Are", W Magazine September 2013.

Photo by Mert Alas and Marcus Piggot, styled by Edward Enninful.
Dollar bills not included. Carmen Carrera in "Show Girl", W Magazine September 2013.

Photo by Steven Meisel, styled by Edward Enninful.
Watch W's most popular videos here: