These Two Sisters Started a Jewelry Brand That's Both Feminine and Sculptural
Meet Morgan and Jaclyn Solomon, who both quit their jobs in fashion to start Agmes last year in New York City.
---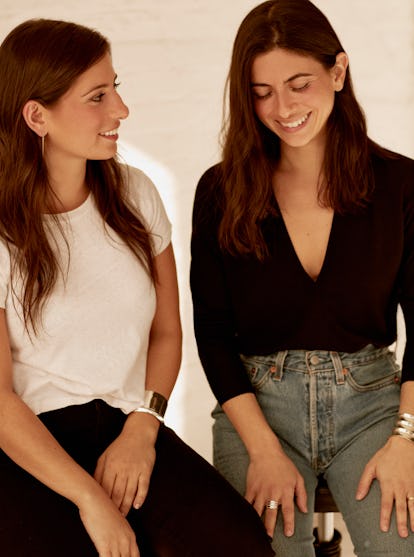 Luca Khouri
In 2013, sisters Morgan and Jaclyn Solomon were both pursuing careers in fashion—Morgan, 28, in the buying department at Bloomingdale's and Jaclyn, 33, a knitwear designer at Proenza Schouler—when a college companion reminded them of a dream they'd since shelved: Jewelry design. It was the jolt Morgan needed, and she immediately quit her job to learn the trade full-time. Unfortunately though, their friend never got to see the final result, as he died before the Agmes brand became official—a name that they later chose in his honor, as it's the combination of his and Morgan's initials.
Today, approximately one year since its founding, Agmes pieces can be found in New York stores like Barney's, Maryam Nassir Zadeh, and Creatures of Comfort, as well as online via Moda Operandi. Their swift success can not only be attributed to their early days in the industry, but also their strong and clear aesthetic. Inspired by artists like Alberto Giacometti, their pieces are bold in their sculptural forms, yet sleek and feminine with no frills. Everything is also hand-made locally in New York from precious, sustainable metals. Most importantly though, these sisters meld beautifully when it comes to the creative process. "We have each other's backs in everything we do," said Jaclyn. "And have complete trust in one another."
Three words that describe your brand's aesthetic:
Sculptural, modern, feminine.
Three artists pinned to your most recent mood board:
Alberto Giacometti, Florence Heni, Valentine Schlegel.
What's your design process like? How do you work together?
MS: Jaclyn begins by researching and pulling inspiration for the collections, which we then review together and come up with concepts. After that, I sketch different pieces and create 3D models, which we'll then review and manipulate together until we're both happy with the finished pieces.
JS: Surprisingly, we work very well together! It's definitely tough at times to work with your best friend, let alone family, but I think we do a pretty good job. We have each other's backs in everything we do, and have complete trust in one another.
Design rules you live by:
MS: Keep it simple.
JS: Simplicity in combination with ease of wear.
Favorite vintage jewelry stores in New York:
JS: I have found some great pieces at No.6 over the years. Karin, the owner, has a great eye and she hand picks all of the vintage herself.
Where you shop for clothing:
MS: Creatures of Comfort, Maryam Nassir Zadeh, The Line.
JS: Mostly at vintage shops when I visit L.A. and at Maryam Nassir Zadeh and The Line in NY, with the occasional Céline splurge.
Daily uniform:
MS: High waisted jeans and a t-shirt
JS: White vintage Levis and a black or cream sweater, along with my Cliff Cuff, Ridge Ring, and Small Mira Earrings.
Night out look:
MS: Same as my daytime look but higher heels and bigger earrings
JS: Very similar to daytime, but with a more open neckline perhaps
Preferred footwear:
MS: Booties, although I love a good mule and am excited for it to finally start getting warm enough again!
JS: I love a mid-heeled boot.
Jewelry you never take off:
MS: I'm always switching it up! I'll go through periods of time that I'll wear the same few pieces for a few days or a week, but then I switch to another few pieces. My go-to's at the moment are the Charlotte Cuff, Small Mira Earrings, Paula Earrings, and Jouve Ring.
JS: My wedding bands.
Piece of jewelry you've had the longest:
MS: This amazing "M.S." initial ring with a sapphire in the middle that my dad gave me. It was actually a piece that he designed for himself back in the day, and lucky for me we have the same initials!
JS: When I was very young, my mom gave me this beautiful, delicate antique gold chain-link necklace with tiny coral beads between each link, which fits very close to the neck, almost like a choker.
Favorite Fall 2017 designer accessories you saw on the runway:
MS: Maryam Nassir Zadeh velvet handbag and Dries van Noten heeled oxfords.
JS: So hard to choose—there were some great accessories this season! I may be biased, but I love the leather wrap sandals at Proenza this season. And I thought the sculptural plexy cuffs were really beautiful as well.
Fashion pet peeve:
MS: When people make comments about wearing white after Labor Day
JS: A high-low hem.
Related: Ten Sculptural Earrings To Add To Your Jewelry Arsenal
Ten Sculptural Earrings To Add To Your Jewelry Arsenal