A Departure for Agnes B
The French fashion designer makes her directorial debut with the unexpected "Je m'appelle hmmm…"
---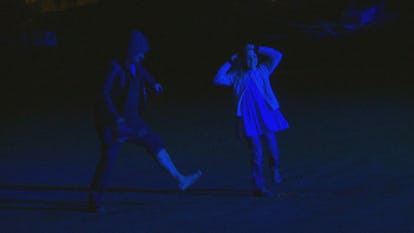 Agnes B's directorial debut "Je m'appelle hmmm…" will likely be a shock to fans of her elegant, easy-going fashion sensibility. "It's not about fashion at all," she joked at London's French Film Festival last week, as the film opened in her native France.
In fact the subject matter is as gritty as it gets. Partly motivated by the director's personal childhood trauma, the film tells the story of Celine, an abused 11 year old, who finds an unlikely soul mate in Peter, a troubled truck-driver, played by the Scottish art star and cineaste Douglas Gordon.
It's an inspired bit of casting rooted in the actor-artist and director-designer's firm friendship. (They met in a Paris bar in 1993 when, as Gordon remembered, Agnes told him, "you have a voice like Sean Connery".) Though new to acting, with his shaved head and tattoos he makes the perfect counterpoint to his pint-sized co-star, Lou-Lelia Dermliac. "He's wearing his own clothes most of the time, like his black leather jacket, which was ideal for the truck driver," Agnes B explained.
Of course, while this is her first feature, the French polymath is hardly a newbie to film. Her credits include creating the suits for "Reservoir Dogs," co-producing Harmony Korine's "Mister Lonely," and helping to fund the radical stars of French film like Gaspar Noe and Claire Denis. "Je m'appelle hmmm…" reveals her flair for at times visually gorgeous storytelling, as well as experimental leanings.
When Celine hides away in Peter's big red truck, she exchanges a life of rape and deceit at home for an open road studded with strange, glittering encounters. This veers from racy truck-stop waitresses to mysterious Butoh dancers in a forest. But compared to the little girl's claustrophobic home-life, even rubbish on the beach becomes loaded with magical potential.
"For a long time I wanted to express myself differently," said Agnes B on the bold break away from fashion. "I wasn't scared, I dared to do it. I have always loved adventures and this was a difficult but truly wonderful one."
Photos: A Departure for Agnes B
Douglas Gordon and Lou-Lelia Dermliac in "Je m'appelle hmmm…"
Lou-Lelia Dermliac in "Je m'appelle hmmm…"
Still from Agnes B's "Je m'appelle hmmm…"
Douglas Gordon and Lou-Lelia Dermliac in "Je m'appelle hmmm…"
Still from Agnes B's "Je m'appelle hmmm…"
Still from Agnes B's "Je m'appelle hmmm…"