Agnès B. Looks Back on 40 Years of Palling Around Paris with Madonna, David Bowie, and Basquiat
Now 75, the French designer, gallerist, and film aficionado looks back on four decades of doing things her way—with Madonna and David Bowie, no less.
---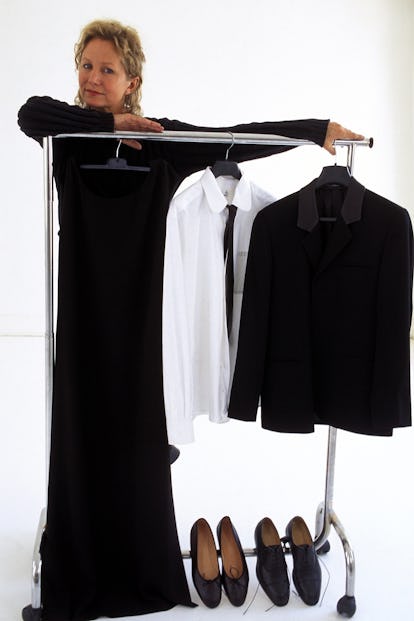 Frederic Reglain/Getty Images
Having spent the early '60s hanging out at Café de Flore at the same time as Simone de Beauvoir and Jean-Paul Sartre, it's no surprise that the designer Agnès B. was later comfortable enough to write to legends like David Bowie and Madonna with strikingly forward style advice—tips they readily accepted, as Bowie went on to wear her designs for the next 25 years.
Agnès, after all, started off her career designing the t-shirts for William Klein's 1960 film Who Are You, Polly Maggoo? before going on to turn those same stripes, plus other signatures like snap cardigans, into something of an empire, all under her lowercase name. Besides stores Bowie frequented in New York and Paris, Agnès also opened two galleries in the '80s, showcasing artists like Nan Goldin, Jonas Mekas, Malick Sidibé, Dash Snow, Ryan McGinley, and Dan Colen early on, before teaming up with Gena Rowlands on a film production company, which ended up being quite convenient for her longtime friends like Harmony Korine.
Even to this day, "all my friends are artists," the now 75-year-old designer said from her home near Versailles on a recent afternoon.
After four decades, all that has proven more than enough material for her new book with Abram, agnès b. styliste, which is also heavy on Agnès' history with film. (She made her directorial debut at age 73 in 2014, and has been known to outfit directors like David Lynch and actors like John Travolta in films like Pulp Fiction, the latter of which came to be when Quentin Tarantino wandered into her Los Angeles store and went on a shopping spree for suits for Steve Buscemi in Reservoir Dogs.) Take a look inside and a trip down memory lane with Agnès as she revisits her earlier days here.
"Our first store opened in 1975 in an old butcher shop. We had two birds in a cage, and then one day, we opened the door. We got a few more birds and and put some plants in the window—we had no clothes in the window, only plants, and that's where they kept their nests, which were full of threads from my dresses and my sweaters. In the end there were 35, and they would sing. It was so nice"
"We also had a lot of friends passing by; we were exchanging our vinyls at that time of all the musicians we loved, and the films because we had movie posters. Harmony Korine, when he was 14 or 15, very young, he'd see the posters in the agnès b. shop when his father would take him to the cinema and he'd pass by. And then we became very great friends. I produced a film of his."
"I did have to stop the [production] company, because it was too heavy to have people working on. I prefer to put some money in different projects; it's better. It was too expensive for me. I'm not Vuitton. [Laughs.] And I have never advertised."
"I'm from the '60s generation, and we hated advertising at that time, so I've never advertised. But I've been supported by press, incredibly, since at that time they were not tied to advertisers like they are now. At the beginning of my career, Marie Claire and Elle and Jardin des Modes and Mademoiselle all supported me. It was fair, you see; they liked my work, so they supported me. I owe a lot to the press."
"You know, first I was at Elle magazine [as a junior fashion editor] and I was choosing clothes, but I thought it was boring to choose clothes; I prefer to design them myself. Later, I opened my shop with my second husband, and then another in New York a few years after. And then I opened the Galerie du Jour in Paris."
"There have been so many collaborations—just look at all the people I've been showing in the gallery. Like Nan Goldin—the show now at MoMA was the show I did with her in '92. That's why when I met Ryan McGinley, I felt there was something in common between his work and Nan's."
"I saw Patti Smith [whom Robert Mapplethorpe gave a scarf bearing Agnès' name shortly before he died] at her Carnegie Hall concert for Tibet last week with Iggy Pop, who was fun afterwards too. I'm lucky, because the people I notice become very appreciated, and it's always a gift to me. For me, all my friends are artists in fact—many starting when they were not known. I only saw one piece of [Jean-Michel] Basquiat's in the Paris biennial, and then I went to his studio to see if I could but a drawing of his, and that's how I ended up with his beautiful self portrait from '83. Keith [Haring]—I saw selling his t-shirts to people from a big sailor bag in Venice on the quai, so I started looking at them and then we started talking. We became friends and I went to his show in Bordeaux, and I saw him in Paris the last time he came to Paris. It's so sad when these young people, these great artists, like Basquiat, die."
"I loved David Bowie. Before knowing him as a person and dressing him [for 25 years], we were so fond of his music. Then I saw him in Paris, in his Berlin period, wearing all these German brown pleats. So I sent him a pair of black leather jeans with a note in pocket saying, "'You should stick to rock 'n roll style,' and then he asked me to dress him."
"I also once wrote to Madonna, because once she came to the Paris store a long time ago, when she was not known, and the girl in the shop called me and said, 'Hey, this girl, her name is Madonna, really wants to have your leather hat.' I said, 'Good, give it to her!' She had been asking every day for a week."
"I have been always designing everything myself. Sometimes I invite a young designer, but always with their name. I can't put my name on something I didn't design myself. And I still love it—it's more like playing with something than doing something boring, and I really enjoy it. I'm with my team in the studio, which is a very nice white room by Canal Saint-Martin. We play the piano there, too. It's very nice."
Meet the Butterflies of Paris Fashion Week:
Bruce Weber in 1983: An Exclusive, Never Before Seen Portfolio
Photo by Bruce Weber for Agnès B.
Photo by Bruce Weber for Agnès B.
Photo by Bruce Weber for Agnès B.
Photo by Bruce Weber for Agnès B.
Photo by Bruce Weber for Agnès B.
Photo by Bruce Weber for Agnès B.
Photo by Bruce Weber for Agnès B.
Photo by Bruce Weber for Agnès B.