Meet Agnes Lloyd-Platt, the Winning Photographer of W's The Shot
The 26-year-old British photographer is all about optimism and color.
---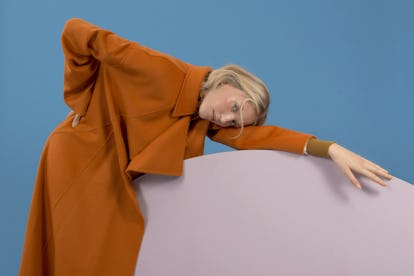 Photograph by Agnes Lloyd-Platt, Styled by Alexandra Carl, Hair by Jose Quijano at The Wall Group, Coat by Hugo Boss; makeup by Laura Dominique at Streeters; Set Design: Amy Friend; Model: Ella Richards at Tess Management; Produced by Biel Parklee; Photography Assistants: Trisha Ward, John Cronin; Fashion Assistant: Juli Molnar; Hair Assistant: James Wilson; Special thanks to Street Studios.
Agnes Lloyd-Platt spent the first 18 years or so of her life wanting to be an astronaut. Eventually, though, the now 26-year-old reconsidered, and it's a good thing she did: After months of voting from both W readers and a panel of judges including photographers Inez & Vinoodh, Hugo Boss creative director Jason Wu, W senior photo editor Esme Rene and W Editor in Chief Stefano Tonchi, Lloyd-Platt's been awarded the winner of W's The Shot, a talent search for up-and-coming fashion photographers. Lloyd-Platt might have been a bit late to the game, but the photographer's now firm as ever in her message: "The whole reason that I'm a photographer, really, is to push optimism on people," she says – and she has the imaginative, boldly hued portfolio to prove it. Read on for more of inspirations, plus her thoughts on Instagram and body image, here.
Have you always wanted to be a photographer? I actually started off doing math and physics and things – I wanted to be an astronaut. I got a place at Edinburgh to do physics, and then I don't know what happened, but I went and did an art foundation, and from there, I went to London College of Fashion and did a fashion photography degree, which is not a real thing. [Laughs.] But it gave me three years to figure things out and play with things. So I graduated in 2012, and I've just been working as a full-time freelance photographer since.
At what point did you get into fashion? My mum's a designer, so I'd sort of known about things a little bit, but not massively. She used to have a company that did clothing and shows with my dad, and she does bags now. So a lot of my still life aesthetic is from looking at products, and I think that's how I got into fashion. And I grew up going to shoots – there's loads of hilarious pictures of me and my cousins all in giant model shoes and lipstick on. It was fun, it was very fun. And I was really lucky because the first shoot that I art directed and produced myself was for them – they gave me a bit of free reign and I just kind of ran with it. We did imagery that wasn't just about the product, but more about telling a story with a bit more intrigue to it, which was good because I think that now, more than ever, fashion imagery doesn't need to be a hard sell anymore. There's space for it to be a bit more indirect, for people to explore it a bit more, and it not be so obvious with products. It's more lifestyle or editorial images that people will remember.
When did you first start taking photos? My brother gave me a camera for my 16th birthday. It was a really old Nikon, it weighed a ton, and I could only really do black and white because I just didn't know what to do with the rest of it. I was never like, dreaming of being a photographer – it didn't really occur to me at all. When I went to do my arts foundation, I thought I was going to do illustration, because I've always sort of been a drawer. My family is all painters – my grandfather, all my aunts and uncles, so I come from quite a visual background. I'm only just realizing all my colors that are so relevant to my work all sort of come from my grandfather – I've just been at my dad's house and there's like 400, 500 of his paintings, and it was unbelievable how many elements of my work I saw and didn't realize I'd picked up on.
Why didn't you pursue illustration? One of my teachers said that it was too therapeutic for me, and that photography was a more pragmatic thing to do because I could do it as a job and not fall out of love with it. So especially in the beginning, I didn't really feel like an artist, and I still don't, although I do feel like I've got more to say now than I did when I started. I've gotten more into fashion and politics and the way we can affect things. I feel like I've grown into what I was always thinking about but not really aware of. The whole reason that I'm a photographer, really, is to push optimism on people. [Laughs.] I mean, I'm producing fashion photography. It shouldn't be a negative or oppressive thing – it should be fun. It should be uplifting. There are enough terrible things in the world for us to see. If you look at fashion imagery, it should be good to look at, and make you feel good.
Have you felt any pushback against that? While that's a great attitude, fashion isn't known for being the most positive or optimistic industry. True, it's not. But I think I'm around at the right time. I'm really lucky in that I'm working in a field that has sent the same sort of message for a really long time, and it's changing, and there's an opportunity to be in that movement of body positivity, and even advertising, which is basically a terrible thing. [Laughs.] You're selling things to people. But to be able to do it in a way that sort of shows diversity and supports each other and works within a team.. We all make up the same industry and have to be in the planet together – it should be about creating something good, and seeing things for what they are, and not trying to hide that or put people in boxes. You don't need to. It's all good, it's all there.
What would you say that your message is, then – the one that's changing now? I think the most prominent one is body image. Casting is really important. There's many ways that you can look at the message, because it is broad, there's body shapes and skin types and attitudes and character and all these kind of things, and I think as long as you're aware of who you're photographing and where they come from and what their story is, how they want their body to be seen, then you're showing it to people in the best light and really highlighting it in a positive way. But it's difficult to talk to an agency or a casting agent and say we're looking for a girl who needs to be bigger than this size, without saying we need her to be plus size, because she's really not plus size at all – she's the majority of women in the UK or the US. And then you talk to them, and they've got all these ideas of how they can change the industry and how they think that they can only do it from the inside. It's really great, because essentially when you're shooting together, you're always going to be a team, and you're always going to be looking to produce the best work.
When did you start posting your photos on Instagram and getting a following on social media? That snowballed. [Laughs.] I've had that account for years, and then @Instagram followed me about a year ago, and they don't follow that many people. I use it solely for work now, and it's a really nice thing to be able to curate yourself, and to not have to get a web developer to do the back end for you, and to be able to have a viewing of thousands of people. I mean half of them don't look at it for sure, and in a way that's quite nice, because there's less pressure to create something good – when I first got a bunch of followers, I just stopped doing it, because I was too stressed out. [Laughs.] But it shouldn't be stressful. And casting is really good on Instagram. I've met quite a lot of models through it who aren't with agencies, but have gotten signed since I've photographed them or we reached out to each other. I've done a couple of casting calls on there too, and it's interesting meeting people that way too because it's sort of ambitious people who will just come and meet you. I don't know if I'm in the minority in this, but I do like the idea that working in an institution that is typically quite unfriendly, that I can make connections and actually make friends out of people. There are a few hair and makeup girls and a few stylists and a few models that are just friends now.
What sorts of projects do you work on now? Is it a mix of commercial and editorial? The commercial work that I do now tends to be still-life – jewelry and shoes are my breadwinner type of things. And then the editorials are quite broad. When I was younger, I used to be of the sort of mindset that fashion was moody and dark and mysterious, you had to brood. But I think people have seen enough of it, and it hit me about three years ago. I went to America, and was working with this guy whose work is really dark, and the more that I worked with him and even the more I saw the good in his, it pushed me to do totally the opposite, and to find that other message and audience, really embracing color and playfulness and bodies in a way that I didn't really think about before. I sort of had taught myself minimal technical know-how, but I didn't have much of a vision, which I feel like I've developed in the last three years. I'd love to keep following this trajectory and do some more editorial, and especially beauty, because I think is so much fun because it doesn't necessarily have to make sense. Or to work with Molly Goddard, or some gorgeous Valentino or Gucci – anything that's exciting and kind of silly, and doesn't take itself too seriously.
Go behind the scenes of Lloyd-Platt's fall fashion shoot, filled with her trademark color and geometry, here.