Agnès B. opens in Soho
Agnès b. is making a Soho comeback with her newest outpost at 50 Howard St., and true to her designer/gallerist ethos, the space is being dubbed a "gallery boutique"—a retail store with a dedicated contemporary...
---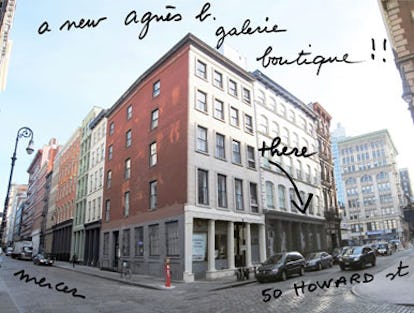 The 3000-square-foot historic landmark was once a soldier's hospital, but now houses Agnès' men's, women's, shoes and accessories collections amidst the antique architectural details, clean white walls, and mid-century furniture. And while the clothes are the focus, it would be worthwhile to pay a visit just to peruse the art: a 500-square-foot gallery wall curated by Agnès will feature international artists from her Paris gallery, Galerie du Jour; her art periodical Point d'Ironie will be available alongside a selection of art books; her collection of original film noir posters will decorate the space; and underground art films will occasionally be screened in-store.
And if that weren't enough, the art and fashion worlds collide with a series of tees for her Artist T-Shirt line, including designs from notables including Ryan McGinness, Rostarr, Harmony Korine, and Bast, many on sale exclusively in-store.