Also Known As @AGuyNamedPatrick
iPhone-only Instagram star Patrick Janelle answers our social q's.
---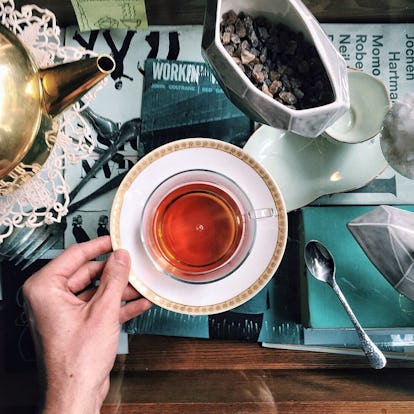 Though his nom de net is @AGuyNamedPatrick, Patrick Janelle is more than just some guy. Aside from co-founding the underground dinner club Spring Street Social Society and creating a new website called The Liquor Cabinet, he is also a celebrated and in-demand Instagram photographer. Using only his iPhone, Janelle has documented his life and travels over the last three years, amassed a following of over 330,000, and received the first-ever CFDA award for Fashion Instagrammer of the Year. Just in time for fashion week, Janelle shares his social media tips, tricks, and pet peeves.
Occupation: Co-founder of Spring Street Social Society, co-founder of the forthcoming site The Liquor Cabinet, and Man About Town.
Define your Instagram style in three words: Attainable, aspirational, lifestyle.
Maximum number of daily posts: As many as I'm feeling.
How many photos do you typically take before posting? Very many. 20? 50? 100?
What is your favorite thing to post? My #dailycortado.
The one thing you would never post: I'm not one to place restrictions on myself.
#Nofilter or filter? I always edit my photos with an app or two.
Favorite editing apps: Snapseed, VSCOcam, Afterlight, SKRWT.
Most geo-tagged location: Probably one of my neighborhood coffee shops like Happy Bones.
Greatest hits: My backyard, before a dinner party; me crossing Bowery in the rain (my brother snapped this one of me at my request); donuts; chocolate; and a collaboration with @thombrowneny from when I was nominated for the CFDA Fashion Instagrammer of the Year award.
Your first Instagram: Around March or April 2012, on the J train, crossing from Brooklyn to Manhattan.
Your secret to social media success? Create beautiful content, be real, and be social both on and off the platform. Social media presence is strengthened by being engaging and interesting.
5 favorite accounts to follow: @putnamflowers. My friends started their flower business a year ago and are killing it. They make the most beautiful arrangements and every post inspires me to make my life more beautiful.
@nathanmichael. Based in Chicago, Nathan makes the Midwest a place I want to keep returning to by featuring restaurants and products from the Windy City and across the US.
@andrewkuttler. Andrew approaches his feed like a design project in which each image is thoughtfully timed and posted to create a graphic, colorful feed.
@cschoonover and @jonschoonover. If modernist fashion is your game, you will be pleased by the minimalist, colorful, and playful posts by these brothers.
@theliqrcabinet. This is the feed for the company I cofounded with my brothers. You can never have too much booze, especially when the images are both beautiful and have something thoughtful to say.
The secret to getting a great runway shot: I use an iPhone 6+ because it's easier to see the action on a large screen. The native camera app allows you to meter and adjust the lighting: tap and hold once, and all of your shots will be in focus for the rest of the show. Then, take way more photos than you think you'll need, and you'll get at least one good shot.
Social media pet peeve: I can't take people spamming the feed, posting many photos within moments of each other. Apologies, but this usually results in an "unfollow."
Photos: Also Known As @AGuyNamedPatrick
Patrick Janelle. Photo by @amyvirginia / Courtesy of Janelle.
The rooftop pool at the Peninsula Beverly Hills. Courtesy of Patrick Janelle.
Janelle's Noah Waxman boots and the floor at SIXTY Soho. Courtesy of Patrick Janelle.
On the road in Manhattan. Courtesy of Patrick Janelle.
Tea time. Courtesy of Patrick Janelle.
Aprons at Hedley & Bennett. Courtesy of Patrick Janelle.
At Hotel Americano in New York. Courtesy of Patrick Janelle.
"Breakfast in bed" at SIXTY Soho. Courtesy of Patrick Janelle.
Bottle service at the Billionaire Club in Istanbul. Courtesy of Patrick Janelle.
Taking a break at Copper Mountain. Courtesy of Patrick Janelle.